Constitution Hall, Lecompton
Introduction
Constitution Hall, erected by Samuel Jones in 1856, became the place were the Kansas Territorial Government convened. In the fall of 1857 (October 19), the Lecompton Constitutional Convention met and drafted a pro-slavery constitution in the upper story of the building.
Images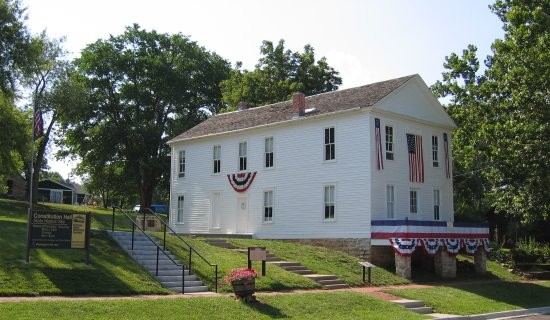 Backstory and Context
After 1894 Constitution Hall was owned by Odd Fellows Lodge number 413. Over the years they shared their lodge room with the Grand Army of the Republic, the Masons, and the Modern Woodmen of America. Rebekah lodge number 698 took over responsibility for the building in 1946. This women's group conducted their social and services activities here until Constitution Hall became a state historic site in 1986.
The convention gathered in the fall of 1857 to create the Lecompton Constitution that was meant to make Kansas a slave state. The constitution was not accepted following huge arguments all across the country, and it was one of the main things discussed in the 1858 Lincoln-Douglas debates. The controversy added to the boiling uneasiness in the country that would lead to the Civil War. The Lecompton Constitution did not pass; this was somewhat due to the fact that the antislavery party gained power over the territorial legislature in the 1857 election. The party gathered at Constitution Hall where they focused on discarding the pro-slavery laws; the party made Topeka the capital when Kansas was made a state in 1861.
The Lecompton Constitution created here led to intense debates not only in the area, but also in the U.S. Congress when a fight happened in the U.S. Senate chamber when it was being discussed. The events in this area divided the North and South even more; there was an endless debate between pro-slavery and free-state supporters. The Lecompton Constitution was essential to pro-slavery supporters, whose efforts failed when it was denied.1
Sources
Footnote 1: "Historic Lecompton," accessed on August 4, 2015, http://www.lecomptonkansas.com/learn/
Additional Information