Liberty Hall
Introduction
Liberty Hall is also called Liberty House and is the location where Alexander Stephens lived. Stephens was Vice President of the Confederate States of America. This home was constructed after the Civil War from 1872-1873. Prior to this home was a different house, in which Stephens lived. The home can be found in Crawfordville, Georgia, and is included in the Alexander H. Stephens State Historic Park.
Images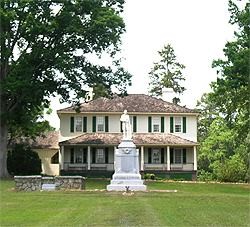 Alexander Stephens statue at Liberty Hall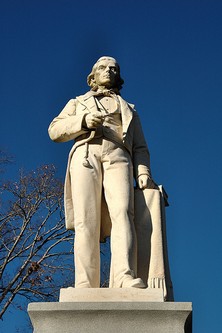 Backstory and Context
The first floor of Liberty Hall consists of Stephens' bedroom which includes the wheelchair he used. He was chronically sick the majority of his adult life and did not often surpass 95 pounds; a table near the bed had bottles placed on them consisting medication that was popular in the time period. Located in the anterior of the home is a men's sitting room, and the women's sitting room is located in the back of the first floor. While living here several prominent people came to see Stephens such as, Robert Toombs, Howell Cobb, and Thomas Cobb. Toombs lived not far from the home in Washington, Georgia and so had his own room at Liberty Hall on its upper floor.
Located in a different building at the rear of the house, is a kitchen; this location was normal of homes in the time period to prevent the oven from making the house hot in the summer season. This particular location for a kitchen diminished the chances of a fire starting in the house as well. Author of Gone with the Wind, Margaret Mitchell, knew of the existence of Liberty Hall. In fact Mitchell used the home as inspiration for her famous novel. Mitchell has been recorded to have said that idea for the plantation house "Tara," on the novel's O'Hara plantation, came from Liberty Hall and the Fitzgerald home of Clayton County, Georgia. While Liberty Hall was the inspiration of the plantation house in the 1939 film version of the novel, the real home and the fictional home slightly differ from each other. Mitchell was drawn to the irregular, free design of the house.
There is a tiny Confederate Museum located beside the house that is controlled by the State of Georgia.1 There is a statue of Alexander Stephens placed before the house.2 The Alexander H. Stephens Historic Park did not gain possession of the site until 1933. The park was created by the Civilian Conservation Corps (CCC). The CCC created the park so that the community would have something to do, and it salvaged the historic aspects of Liberty Hall. Stephens originally bought the property two years following his admittance into the U.S. Congress in 1843.
Despite not agreeing with Georgia's decision to secede from the Union, Stephens was selected as the Vice President of the Confederate States in 1862. He and Confederate President Jefferson Davis clashed frequently, however Stephens did his job as Vice President the best he could up to the closing of the Civil War. Stephens was put in a jail in the North for five months following the end of the war. He eventually came back to Crawfordville where he would remain up to his death. Stephens was eventually reelected into the U.S. Congress and even became Governor of Georgia. After his death, Stephens was laid to rest at Liberty Hall.3
Sources
Overview and Footnote 1: "Confederate Digest," accessed on August 3, 2015, http://www.Confederatedigest.com/2010/10/liberty-hall-prototype-for-tara.html Footnote 2: "Virtual Tourist," accessed on August 3, 2015, http://www.virtualtourist.com/travel/North_America/United_States_of_America/Georgia/Crawfordville-767013/Things_To_Do-Crawfordville-TG-C-1.html Footnote 3: "ExploreSouthernHistory.com," accessed on August 3, 2015, http://www.exploresouthernhistory.com/crawfordville.html
Additional Information