Homer Noble Farm
Introduction
The Homer Nobel Farm is the location where famous poet Robert Frost lived during his final 25 years, following the passing of his wife. Today the site is a museum, and Middlebury College possesses and operates the location. At the site is an old cabin that is a monument to Frost. He worked and created more writings while staying at the cabin.
Images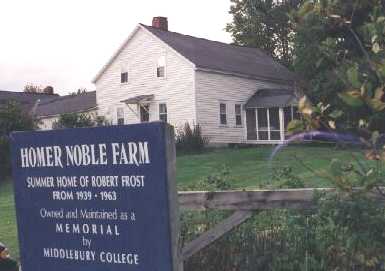 The cabin at Homer Noble Farm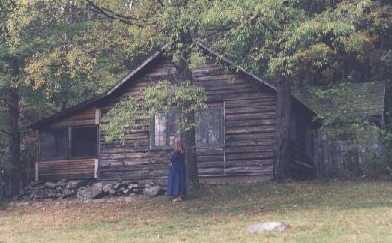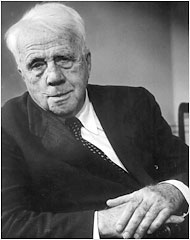 Backstory and Context
During the summer of 1938, Frost, still mourning the passing of his wife earlier that year, went to the Bread Loaf Writers' Conference in Ripton. During this visit he met future friends Tim and Kay Morrison; Kay started serving as Frost's secretary. Frost purchased the farm to have a home when he would live in Ripton during the summer. Frost would come to the Farm nearly every summer until he passed away in 1963. The location consists of a big farmhouse and a small cabin. After Frost's death, the Morrisons controlled the house, but now Middlebury College uses it to assist faculty.
Frost lived in the small cabin where he was isolated to write; he would eat breakfast lunch, and dinner with the Morrisons at the house. Being his secretary, Kay would be with Frost many hours in the morning to help him take care of his papers. Several people came to see Frost ranging from literary acquaintances to fans who would have discussions with him very late into the evening. Several of his friends, such as Peter Stanlis, Reginald Cook, and Larry Thompson wrote about Frost in later years.
Presently the cabin is only available for tours for special events. The farm is not too far away from Bread Loaf and on the same road the Robert Frost Trail can be found. Along this trail are sites that have some of Frost's poems placed along them. The trail was created by the Green Mountain National Forest, and Reginald Cook chose the poems he thought went best with a particular view. Cook also overlooked the insertion of the plaques containing the poems along the trail.1
Sources
Overview: accessed on August 2, 2015, http://www.onenewengland.com/article.php?id=396 Footnote 1: accessed on August 2, 2015, http://www.frostfriends.org/ripton.html
Additional Information