High Museum of Art
Introduction
The High Museum was established in 1905 and is the leading art museum in the Southeast. It houses over 15,000 works of art that are on permanent display and has featured a variety of artwork on loan from world-class museums such as the Louvre. In 2010, the museum became one of the 100 most-visited art museums in the world after 509,000 individuals passed through its doors that year. Its collection is comprised of American and decorative art, African art, European paintings, African American art, modern and contemporary art, photography, folk art, and self-taught art. Special attention is also paid to works created by Southern artists. Artists represented at the High include Chuck Close, Dorothy Lange, Giovanni Battista Tiepolo, Claude Monet, Tommaso del Mazza, John Copley, and Walker Evans. The collection also includes a large sculpture called "The Shade" created by Auguste Rodin, which stands outside on the museum grounds. The High's photography collection is large, featuring 6,000 prints. At the core is one of the best Civil Rights era photography holdings in the country.
Images
The High Museum of Art of Art was founded in 1905 as the Atlanta Art Association. It moved into the current building in 1968.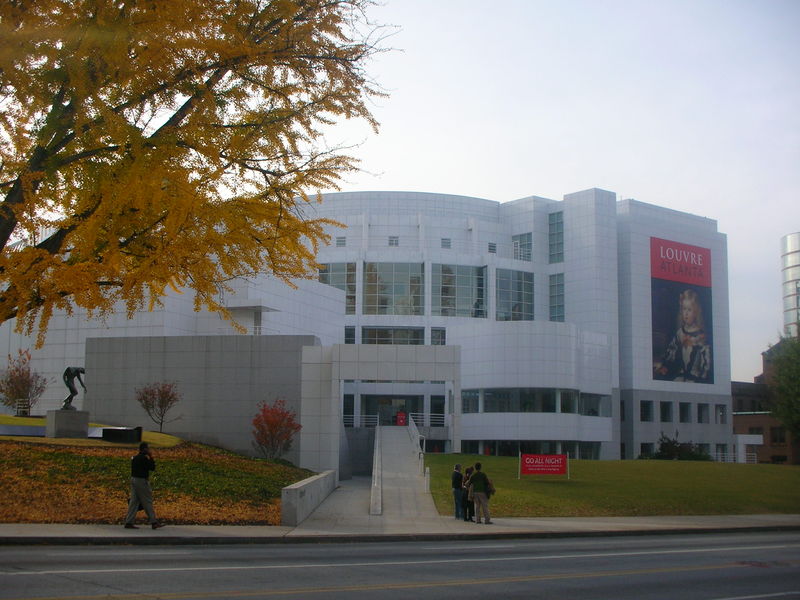 Backstory and Context
The High Museum was founded as the Atlanta Art Association but it did not have its first physical location until 1926, when Mrs. Joseph High donated her family home to the museum. Another building was constructed next to it in 1955 to increase its size. The current building was constructed in 1968, then called the Atlanta Memorial Arts Center. It was named as such to honor the people, many of whom were from Atlanta, who died in a plane crash at the Orly Airport in Paris on June 3rd 1962. They were departing from a museum-sponsored trip to Europe, which included a visit to Paris and the Louvre. The plane crashed on take-off. Only two flight attendants survived the crash; the rest of the crew and all passengers were killed, many of whom were prominent Atlanta citizens. As a gesture of sympathy, the Louvre donated the Rodin sculpture, "The Shade," to the museum in the fall of that year.

Sources
"History of the High." The High Museum of Art. Accessed February 2, 2018. https://www.high.org/stories/history-of-the-high.
Additional Information