John Muir in Indianapolis
Introduction
This historic marker commemorates an event that inspired the work of John Muir, one of the most influential conservationists in United States history. As the founder of the Sierra Club and considered as the "Father of the National Parks," John Muir's most prominent accomplishment is his 1890 petition to Congress for the National Parks Bill, which led to the establishment of Yosemite National Park. Muir's writings and essays profoundly shaped the way Americans envision their relationship with the natural world. Located on the meridian where South Illinois Street and W. Merrill Street separate, near Lucas Oil Stadium in Indianapolis, a historical marker titled "John Muir in Indianapolis" pays tribute to Muir's profound, yet short-lived experience in Indianapolis. In the city, Muir worked with Osgood, Smith, and Co., which manufactured wagon and carriage hubs. During this experience in Indianapolis, an accident blinded Muir's right eye and damaged the other. He recovered his eyesight, but Muir was forever changed. This accident inspired Muir to travel to Florida, the Gulf of Mexico, and finally to California and the Yosemite Valley - the rest is history.
Images
John Muir in Indianapolis Historical Marker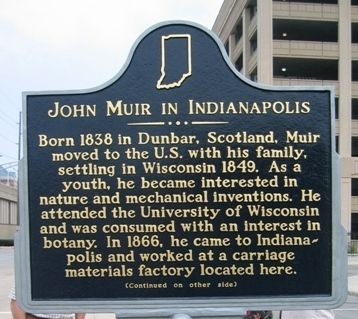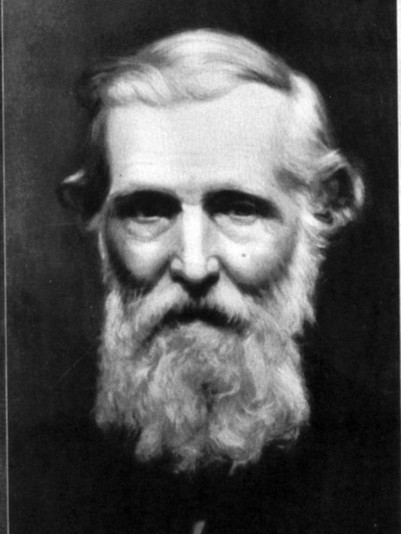 John Muir and President Theodore Roosevelt, 1906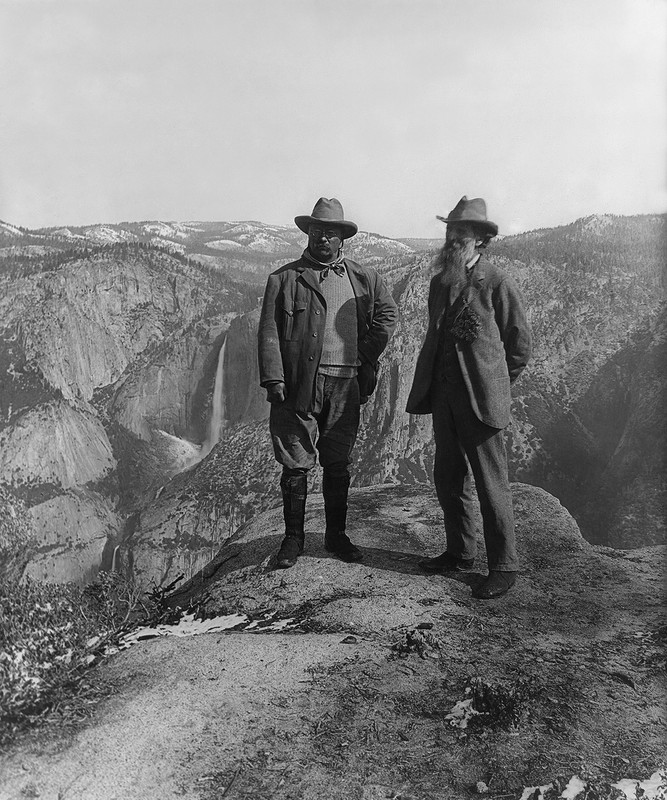 Backstory and Context
History and Significance
John Muir was born in Scotland in 1838, and he and his family immigrated to the United States in 1849. In the US, the Muir family established a farm near Portage, Wisconsin, called "Fountain Farm Lake." At the age of 22, Muir enrolled in the University of Wisconsin-Madison, where he took several courses in botany and geology.
Muir never graduated, and in 1864, he moved to southern Ontario. By 1966, Muir returned the United States and moved to Indianapolis, which he considered the perfect place to settle due to the abundance of factories and the rich deciduous hardwood forests surrounding the city. From his experience in Madison and Southern Ontario, Muir had developed a passion for botany, and while working in Indianapolis, he could botanize in his free time.
After arriving in Indianapolis, Muir found a job working with Osgood, Smith, and Co., where for $10 a week, he would work manufacturing carriage materials. His machinery expertise and his ability to improve factory mechanisms gave Muir several quick pay-raises.
On Sundays, Muir was often found in the forests on botanical excursions, and he gained a following of youngsters and adults who joined him on these excursions.
Working at the factory inspired his future writings on national parks. For example, Muir invented a machine that could automatically make wooden hubs, spokes, and felloes, which the machine would then automatically assemble into a full wheel. Muir never patented his invention, claiming "all improvements and inventions should be the property of the human race. No inventor has the right to profit by an invention for which he deserves no credit. The idea of it was really inspired by the Almighty."
At the time, Muir was saving his earnings for a botanical excursion to the Amazon. His company, Osgood, Smith, and Co., saw great value in Muir, and boosted his pay to convince him to not travel to there. March 6th, 1867, however, was a day that forever changed the course of Muir's life, and consequently, America's relationship with nature.
On that day, a belt Muir was working on slipped and pierced his right eye. His other eye also went dark in a sympathetic reaction. Muir wrote of the incident, ""For weeks I have daily consulted maps in locating a route through the Southern States, the West Indies, South America, and Europe -- a botanical journey studied for years. .. but, alas, I am half blind."
Muir soon recovered his sight, and wrote, "As soon as I got out into heaven's light … I bade adieu to mechanical inventions, determined to devote the rest of my life to the study of the inventions of God."
After regaining his sight, Muir immediately left Osgood, Smith, and Co., and then embarked on a 1,000-mile walking trip to Florida and the Gulf of Mexico. His sights were still on the Amazon, but a bout of malaria gave Muir a slight, 44-year detour that would take him to California, the Sierra Nevada mountains, and Yosemite Valley.
Muir's experience in Indianapolis paved the way for his later work and accomplishments, and without the accident, some would argue, America's relationship with nature and Natural Parks would be vastly different today.1
Historical Marker Inscription
Front:
Born 1838 in Dunbar, Scotland, Muir moved to the U.S. with his family, settling in Wisconsin 1849. As a youth, he became interested in nature and mechanical inventions. He attended the University of Wisconsin and was consumed with an interest in botany. In 1866, he came to Indianapolis and worked at a carriage materials factory located here.
Back:
Following a severe eye injury, Muir left Indianapolis September 1867 to begin extensive travels, which ended in California March 1868. His deep friendship with Catharine Merrill and others, however, resulted in a lifelong connection with Indianapolis. Muir co-founded the Sierra Club 1892 and was president until he died December 24, 1914.2
Sources
1.) Harold W. Wood Jr., "John Muir in Indiana," Sierra Club John Muir Education Project, published April 5, 2003, accessed August 2, 2015, http://vault.sierraclub.org/john_muir_exhibit/geography/indiana/john_muir_in_indiana.pdf 2.) "John Muir in Indianapolis," the Historical Marker Database, accessed August 2, 2015, http://www.hmdb.org/marker.asp?marker=46133
Additional Information