Indianapolis Clowns Monument
Introduction
Located within the Children's Museum of Indianapolis, this exhibit shares the history of the Indianapolis Clowns, an influential team that went from barnstorming to playing for championships during the era of segregation. The highlight of the exhibit is a statue of several players who are known for their skill and trend-setting style of fast-paced baseball.
Images
This statue is located within an exhibit in the Indianapolis Children's Museum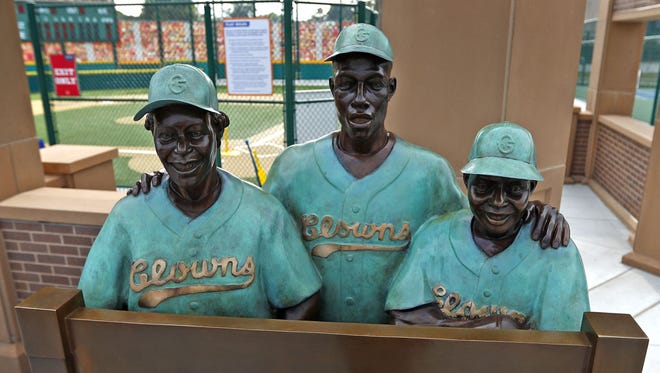 The Clowns had their own bus and often worked hard in advance to find accommodations for players on road trips in the era of segregation.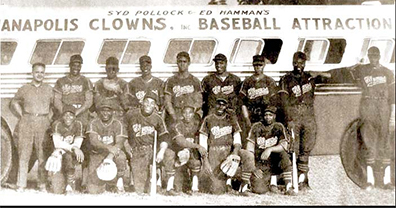 Backstory and Context
The Indianapolis Clowns date back to a Depression-era Miami team called the Ethiopian Clowns that was established by Hunter Campbell, Johnny Pierce, and Syd Pollock. Pollock was the driving force behind the team's publicity and helped to make the team famous from coast to coast. The Clowns discovered a new way to gain fame and notoriety. Starting out as great entertainers, they soon took a more serious approach and became known for their skill and uniquely fast-paced style of baseball. 
In 1943, the Clowns joined the Negro National League and relocated from Miami to Cincinnati. After two seasons, the team moved to Indianapolis. After a seven year stint in the league that included the championship in 1950, the Clowns opted out of their team contract and started barnstorming tours which offered a chance for more revenue.
Goose Tatum was one of the famous members of the team was known as a great showman. Often he would play with a glove triple the size needed, use a rocking chair at second base, and he also pioneered baseball's "hidden ball" trick. For many fans, the chance to see Tatum alone was worth the price of admission, especially when pitcher Ed Hamman joined the act by throwing fastballs between his leg and also behind his back. In addition to winning most of their games, players would also entertain the crowd by going into the stands and offer peanuts and programs to sell. Tatum's most famous trick was called Shadow Ball. This was where the players would play a completely normal game without an actual baseball. 
Similar to other African American barnstorming teams like the Harlem Globetrotters, the story of the Clowns showed what some Black athletes had to do in order to make a living playing their sport. Skill alone was not enough. At the same time, the Clowns and Globetrotters and other barnstorming teams challenged segregation and often overcame the color barriers of their time as they played in front of large African American and Caucasian crowds and usually beat their white competitors. The team traveled with players such as Satchel Paige, Henry "Hank Aaron, Buster Haywood and DeWitt Smallwood. They were also the first baseball team to hire women in competitive play, giving rise to the storied careers of players such as Toni stone, Miami "Peanut" Johnson, and Connie Morgan.  
Sources
"Avenue of ChampionsOld National Bank Sports Legends Avenue of Champions." Avenue of Champions | The Children's Museum of Indianapolis, www.childrensmuseum.org/exhibits/avenue-champions.
"Indianapolis Clowns." Encyclopædia Britannica, Encyclopædia Britannica, Inc., www.britannica.com/topic/Indianapolis-Clowns.
Negro Leagues Baseball EMuseum: Personal Profiles: Henry "Hank" Aaron, www.nlbemuseum.com/history/players/aaron.html.
Additional Information