Oak Grove Cemetery
Introduction
Oak Grove Cemetery, which was first called American Cemetery, is one of the most famous cemeteries in all of Texas. Only measuring two acres, there are a great number of historical figures that have been laid to rest on the grounds. Some gravesite of well known individuals include Thomas Jefferson Rusk, Charles Stanfield Taylor, John S. Robers, and William Clark, Jr., just to name a few. The cemetery also includes graves from the former Spanish cemetery grounds on which the county courthouse is now located.
Images
This historical marker describes the history of the cemetery.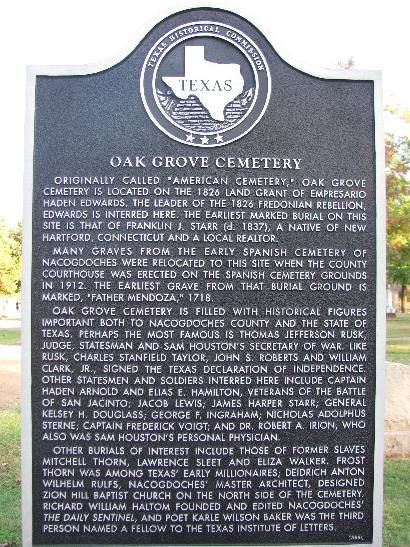 One of the many graves at the cemetery.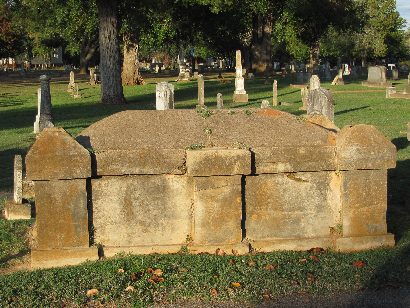 Backstory and Context
The land that Oak Grove Cemetery is located on was originally a part of the land grant of Empresario Haden Edwards, who was the leader of the 1826 Rebellion and is buried on the grounds. Graves from the Spanish cemetery of Nacogdoches were moved to Oak Grove when the county courthouse was constructed there in 1912. The oldest grave that was relocated is labeled, "Father Mendoza" and is recorded for the year 1718.

Additionally, Oak Grove is known to be the final resting place of numerous well known individuals, such as Thomas Jefferson Rusk, a judge, statesmen, and President Sam Houston's secretary of war, as well as Texas Declaration of Independence signers Charles Stanfield Taylor, John S. Robers, and William Clark, Jr. The cemetery includes many other notable statesmen as well as former slaves, a Texan millionaire (Frost Thorn), writers, and the city's master architect.



Sources
"Oak Grove Cemetery." Texas Escapes. Accessed July 31, 2015. http://www.texasescapes.com/Cemeteries/Oak-Grove-Cemetery-Nacogdoches-Texas.htm.

Photos: Dana Goolsby, via Texas Escapes
Additional Information