Old Tucson Studios
Introduction
Old Tucson Studios is a theme park built on the remains of a movie studio. The Studios were built for in 1939 for the movie Arizona and soon abandoned, but it was used in the production of several other films until it was opened to the public in 1960. Today, the Studios serve as a movie studio and theme park, showing live shootouts, historical tours, and other film-related entertainment.
Images
A view of the Old Tucson Studios entrance.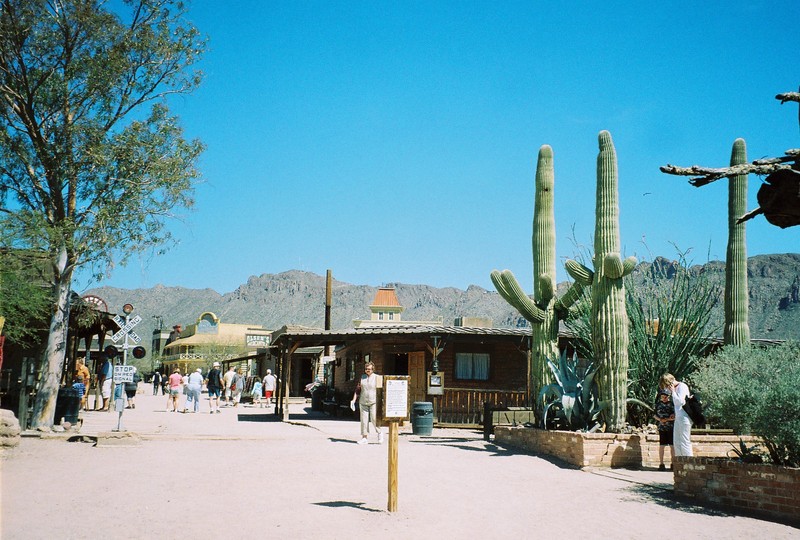 Backstory and Context
In 1939, Columbia Pictures built Old Tucson Studios for the filming of their movie Arizona. The Studios were specifically designed to resemble 1860s Tucson, and as a result, the Studios ended up holding over one hundred wooden replica buildings. The filming did not last long, and after it was completed, Columbia Pictures donated the Old Tucson film set to Pima County. After several years of holding on to the property, Pima County allowed the set to be used for filming of other movies, and not long after this was enacted, Pima County also leased the Old Tucson set in order to allow it to undergo a restoration project. The project was underway until 1960, when it was opened to the public as the Old Tucson Studios, an Old West-themed attraction.
The Old Tucson Studios were massively popular thanks to its attractions, such as saloons, rodeos, mock gunfights, and many other Old West-themed events and locations. The Studios continued to be used for filming during this time, closing specific parts of the Studios to the public, while keeping other portions open. Old Tucson Studios continued to be a popular attraction in Arizona well into the 1990s, until a fire broke out in the Studio in 1995. The fire burned down most of the buildings, as well as many costumes, set pieces, and other objects of relevance to the Studios. The cause of the fire was never fully identified. In 2011, a project was begun to add new buildings to the Studios in the wake of the fire, which was completed in November of 2011.
Sources
http://www.oldtucsonblog.com/history/ http://www.oldtucsonblog.com/fire-before/ https://en.wikipedia.org/wiki/Old_Tucson_Studios
Additional Information