Pillsbury A Mill
Introduction
For over 40 years, the Pillsbury 'A' Mill was the largest flour mill in the world. Owned and built by the Pillsbury Company in 1881, the mill once operated two powerful direct-drive waterwheels that could each generate 1,200 horsepower. This famous mill still stands today and has been renovated into an apartment building called A-Mill Artist Lofts. The building is a National Historical Landmark and is listed on the National Register of Historic Places. Minneapolis architect LeRoy S. Buffington designed the building.
Images
The building as it appears today.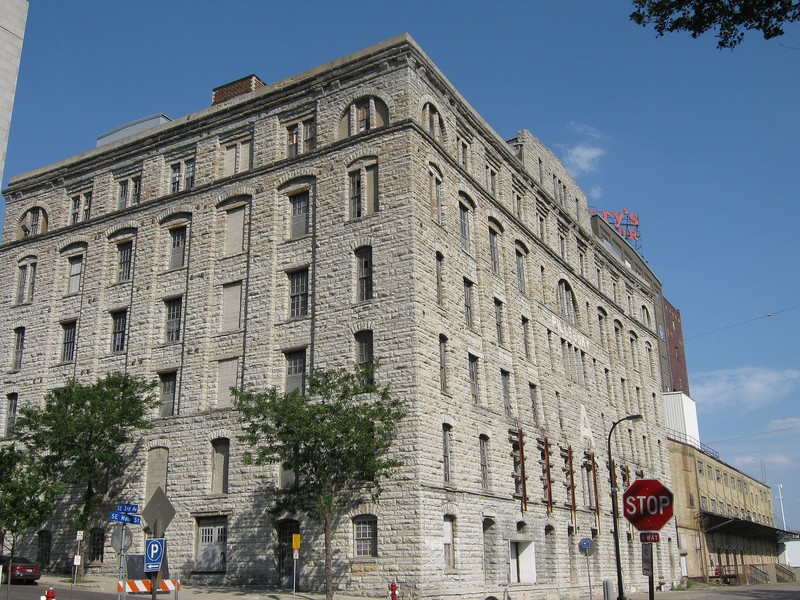 Backstory and Context
The company was founded by Charles Pillsbury (1842-1899), who was born in New Hampshire. His uncle, John, moved to Minneapolis in 1855 and Charles followed him in 1869. Charles started working for his uncle in the milling industry. Eventually, he along with his father and uncle, founded the Charles A. Pillsbury & Company in 1871. The company became very successful. Charles invented ways to improve wheat processing and as a result increased output. This success enabled him to build the 'A' Mill in 1881. In 1882 the company produced 4,000 barrels a day; this output reached its peak at around 16,000 in the early 1900s. The mill continued to operate for much of the 20th century. The building's conversion to apartments began sometime after 2012.
Sources
Circiog, Gabriel. "Dominium Closes in on Approval for Pillsbury A Mill Conversion." Multi Housing News. Accessed March 20, 2017. https://www.multihousingnews.com/post/dominium-closes-in-on-approval-for-pillsbury-a-mill-conversion...

"History." A-Mill Artist Lofts. Accessed March 20, 2017. http://www.a-millartistlofts.com/about/#history.

Lissandrello, Stephen. "Pillsbury "A" Mill." National Park Service - National Register of Historic Places Nomination Form. November 13, 1966. https://npgallery.nps.gov/GetAsset/b53cc3d8-44ba-4b1c-99d8-f8d7ac97c631.

Photo: Wikimedia Commons
Additional Information