Fort Lancaster
Introduction
Established in 1855, Fort Lancaster was a large military post that was instrumental in providing protection for those passing through on the San Antonio-El Paso Road on their way to California. It was one in a series of forts built along the western Texas frontier. It was established by Maine military officer Stephen D. Carpenter. Today, the 82-acre site includes ruins and an interpretive trail as well as a visitor center for more information. It is a Texas State Historic Site and is also listed on the National Register of Historic Places.
Images
Image of the ruins of what was once an active military base named Fort Lancaster.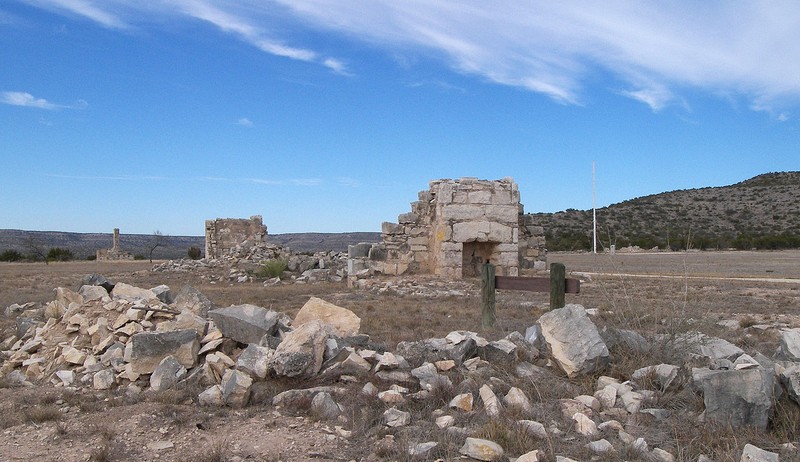 Backstory and Context
Fort Lancaster was established by Captain Stephen D. Carpenter and his First Infantry Regiment on August 20, 1855. The fort became a permanent fort almost exactly a year later on August 21, 1856. The soldiers built the fort structures out of limestone and adobe with grass thatched roofs and, in some cases, wooden shingles. The main buildings were tent designs and small shelters. It was the responsibility of the troops at Fort Lancaster to provide protection to travelers who were passing through on their way to California.
The post was well supplied with fresh water from the Pecos River. However, because of its extremely remote location, the soldiers did not have much in the way of entertainment at Fort Lancaster. They spent their time maintaining the site and patrolling the San Antonio-El Paso Road. Fort Lancaster was one of many forts that was built on the western Texas frontier. In 1858, about an estimate of 152 men occupied the fort.
Due to the beginning of the American Civil War, Fort Lancaster was abandoned in 1861 following Texas leaving the United States. Texas State Troops allowed other U.S. armed forces to leave with their loved ones escaping to San Antonio, boarding trains, and sailing away from the United States. Company F, Second Regiment of the Texas Mounted Rifles (owned by the Confederacy) occupied the fort from 1861-1862. Soon after the war's end, the fort was abandoned and left to deal with vandalism as well as harsh weather. Texas was annexed back into the United States following the Civil War.
Fort Lancaster was loaned out to Crockett County in 1968 by some private owners of the land. The land was transferred over to the Texas Parks and Wildlife Department. The department began restoring some of the fort with cement mortar material and aided archeological digs on the site. Due to a decreased budget, restoration efforts landed on the responsibility of the Texas Rural Communities. In 2008, the land was transferred to the Texas Historical Commission as they turned the fort into a museum and public park. Furthermore, a scale model of the fort is on display at the Crockett County Museum. The fort was designated a Texas State Historic Site in 1968 and placed on the U.S. National Register of Historic Places in 1971.
Sources
"Fort Lancaster State Historic Site," Pecos Trail Region-Texas Pecos Trail. Accessed July 19th 2021. https://texaspecostrail.com/plan-your-adventure/historic-sites-and-cities/sites/fort-lancaster-state-historic-site
"Fort Lancaster," Texas State Historical Association. Accessed July 19th 2021. https://www.tshaonline.org/handbook/entries/fort-lancaster
Additional Information