Fannin Battleground
Introduction
Fannin Battleground Historic Site is the commemorative location where Col. James W. Fannin surrendered to Mexican Gen. Urrea after two days of brutal warfare. The surviving men were taken prisoners of war, and most were executed by orders from Santa Anna. The episode helped fuel the fight for independence. Today, a stone monument in honor of the Texans that fought in this battle stands at the site.
Images
"Fannin Battleground State Historic Site in 2009"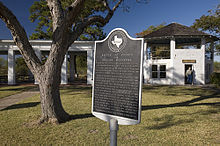 Backstory and Context
Following the fall of the Alamo, Col. James W. Fannin was given instructions by Commander in Chief Sam Houston to destroy Presidio La Bahia and then take his troops to Victoria. So, on March 19, Fannin headed out as he was instructed, leading a group of approximately 300 soldiers. However, Fannin and his men met trouble along their journey, and they found themselves in full-on battle with Mexican forces, led by Gen. Jose Urrea, that well outnumbered their own. 
As night fell, the Texan forces were severely suffering, having lost seven and another 28 being wounded. The soldiers dug trenches and waited out the night, but upon sunrise, they were met again with Mexican fire. Col. Fannin decided that they would have to surrender if the rest of them were going to survive. Fannin was able to strike a deal with Urrea. According to the Texas Historical Commission:
 "It is believed they drafted terms, which consisted of a guarantee that they would be treated as prisoners of war, their wounded given medical attention and all prisoners would eventually gain freedom by release to the United States. Urrea made it clear to Fannin that he could not ratify those terms, but would use his influence with Santa Anna on the Texian's behalf. The signed document states the surrender was 'subject to the disposition of the supreme government.'"
The prisoners were held at Goliad and joined by 80 more men from the Georgia Battalion who also succumbed to Gen. Urea at Dimmit's Landing. Despite the terms agreed upon with Urea, Santa Anna demanded that the prisoners be killed. However, about 20 men were able to escape the massacre. According to the Texas Historical Commission:
 "The execution of Fannin's command served to inflame the Texas cause, and when Texian forces attacked Santa Anna's command on April 21, 1836, at San Jacinto, the battle cry rang out 'Remember the Alamo! Remember Goliad!'"
Sources
Fannin Battleground History, Texas Historical Commission. Accessed December 7th 2020. https://www.thc.texas.gov/historic-sites/fannin-battleground/fannin-battleground-history.
Image Sources
by TxHC at English Wikipedia. Licensed under CC BY-SA 3.0 via Wikimedia Commons - https://commons.wikimedia.org/wiki/File:Fannin_Battleground_State_Historic_Site_in_2009.jpg#/media/File:Fannin_Battleg

Additional Information