Morelli House
Introduction
The Morelli House was the home of Antonio Morelli, the orchestra conductor of the Sands Hotel, famous for being frequented by top entertainers of the day. Apart from being originally built in the Desert Inn Country Club Estates, it was said that the likes of Dean Martin and Frank Sinatra would visit after hours or use the house's music room in order to rehearse. Today, the building is the headquarters of the Junior League of Las Vegas, and has been moved to a new location.
Images
A view of the Morelli House.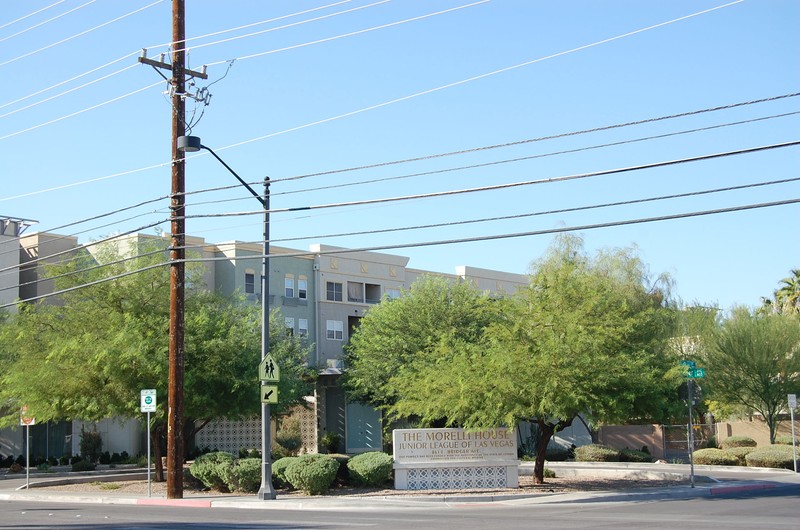 Backstory and Context
In 1954, Antonio Morelli became the musical director and orchestra conductor of the Sands Hotel. With the money and prestige that he gained from holding such a position, Morelli and his wife commissioned the construction of a home in the Desert Inn Country Club Estates, and in 1959, the Morelli House on 52 Country Drive was finished, complete with a view of the Desert Inn Golf Course. As Morelli held the position of the musical director of the Sands, he soon met with many of the top performers of the day, such as the Rat Pack, who were the top billing for the Sands. For years until and after his death in 1974, Morelli's home was frequented by these new-found acquaintances, bringing rise to tales of rehearsals and parties of the Las Vegas musical upper crust.
In 2000, the house and other Desert Inn properties were bought by Steve Wynn and were slated to be demolished to make room for the Wynn Resort. However, the Junior League of Las Vegas opted to buy the house in 2001 to keep it from being demolished, and soon after had it moved to Ninth and Bridger Avenue. After the move, it was then converted to be used as the Junior League's headquarters, as well as a place to broaden both the historical and cultural horizons of its surrounding community. Despite the move and renovations, the Morelli House's interior stayed faithful to the design of its original period, and in 2012, it was added to the National Register of Historic Places.
Sources
http://morellihouse.org/ http://www.jllv.org/the-morelli-house https://en.wikipedia.org/wiki/Morelli_House
Additional Information