Fort McKavett State Historic Ste
Introduction
Originally established in 1852 but now owned and maintained by Texas Historical Commission, Fort McKavett is comprised of 19 restored structures, including the officers' quarters, barracks, hospital, school house, dead house, sink and post headquarters. Visitors will also find the ruins of other fort buildings such as the commanding officer's quarters and the barracks.
Images
Ruins of the Commanding Officer's Quarters "Fort Mckavett" by Pi3.124 - Own work. Licensed under CC BY-SA 3.0 via Wikimedia Commons - https://commons.wikimedia.org/wiki/File:Fort_Mckavett.png#/media/File:Fort_Mckavett.png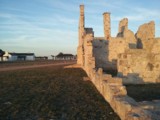 Backstory and Context
Fort McKavett was established by the 8th U.S. Infantry in 1852, and it provided shelter and protection for new settlers as well as for those travelers passing through on their way to California. However, as more and more Indian reservations were created, the threat of war diminished and so the fort was abandoned in 1859.

The fort would be used again though, for in 1868, the Comanche Indians began to increasingly attack settlers and warfare again broke out within the region. As a result, Fort McKavett was reopened as a military post. According to the Texas Historical Commission, "From 1868 to 1883, Fort McKavett served as a major supply depot providing food and provisions for most of the military campaigns, scientific and mapping explorations and other forts in West Texas. By 1875, hostilities in the area had been resolved, resulting in the mandatory relocation of Native Americans to reservations in Oklahoma, and Fort McKavett was finally abandoned by Company D of the 16th Infantry Regiment in 1883."

The abandoned fort buildings became the genesis structures for the town of Fort McKavett. In 1968, the site was designated a state historic site.
Sources
http://www.visitfortmckavett.com/index.aspx?page=530
Additional Information