The Thunderbird (1948-2000)
Introduction
The Thunderbird was the fourth casino and hotel resort to open on the Las Vegas Strip. Built by Cliff Jones and Marion Hicks in 1948, the Thunderbird had a Native American theme and depicted scenes from the old west, as well as traditional Native American portraits and other décor. The Thunderbird only existed as its own entity until 1977, when it was sold and renamed to the Silverbird, which would eventually become the El Rancho. Like the other early Las Vegas casinos and resorts, this hotel was demolished although it was notable in its longevity, outlasting nearly every other Las Vegas hotel until it was demolished in 2000. Visitors can still visit the area to see where the casino once stood.
Images
The Thunderbird before its demolition in 2000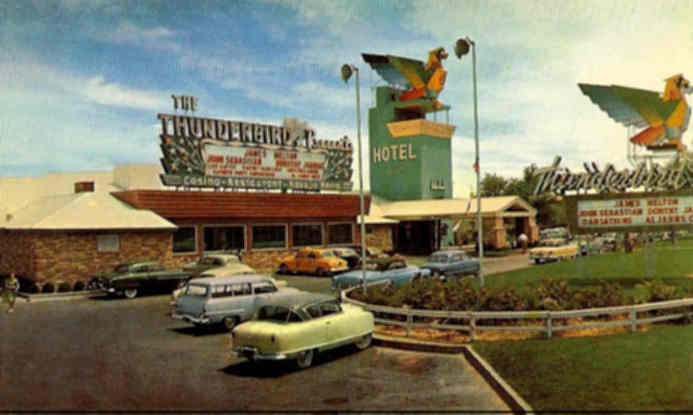 Backstory and Context
In 1946, Cliff Jones and Marion Hicks worked together to invest in a plot of land on which they planned to build a lavish casino. Construction did not start until 1947, however, and the Thunderbird finally opened on September 2nd, 1948. At this point in time, Hicks was the only man in Las Vegas to own two resort hotels, the other of which was his resort "El Cortez." To better fit the Native-American theme of the casino, the Thunderbird was built using materials that were native to the region. Additionally, it also sported a large figure of a Thunderbird on top of a tower. The Thunderbird quickly gained popularity amongst locals and tourists alike: so much so that it was overbooked in 1952, prompting Jones and Hicks to build a companion hotel, the Algiers, to help with the overflow of guests.
After the addition of the Algiers, the Thunderbird underwent several additions in 1954 and 1955, such as the addition of the Terrace Room, which included a dance floor, as well as a movie broadcasting system. In the following decades, the Thunderbird was sold several times: once in 1964, once in 1972, and a final time in 1977, after which it was renamed the Silverbird. The Silverbird did not last long, however, as it was sold in 1981 and changed to El Rancho. El Rancho closed after only a decade of service and was slated for demolition. The building was imploded on October 3rd, 2000 to make way for a new casino/hotel resort. As of right now, where the El Rancho, and previously the Thunderbird, sat, is a currently unfinished building. The Drew Las Vegas Casino, formerly known as Fontainebleau Las Vegas, is slated to open in 2020.

Sources
History of the Thunderbird. Las Vegas Online Entertainment Guide. n d. November 6, 2018. https://www.lvol.com/hotels/history/h-thunderbird.html.