The Algiers Hotel
Introduction
The Algiers was a hotel that was originally built in order to house the influx of guests to the popular Thunderbird casino in the early 1950s. Like several other spots on the Las Vegas Strip, such as the Dunes and the Sands, the Algiers was a desert-themed hotel, hosting a heated pool for guests, as well as other amenities that served to cater to guests' every whim. Though it outlived its companion, the Thunderbird, the Algiers closed in 2004, and is now gone from the Strip.
Images
An old view of the Algiers.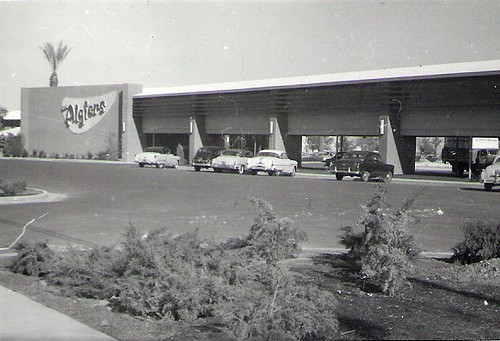 Backstory and Context
In September of 1948, Cliff Jones and Marion Hicks opened a casino/hotel called the Thunderbird, which was an enormous hit soon after opening. Four years into the lifespan of the Thunderbird, Jones and Hicks found that it was overbooked, and in response, they decided to build the Algiers, a companion hotel to the Thunderbird. The Algiers opened in 1953 with 110 rooms and the promise that guests were privy to the same privileges as they would have if they were staying at the Thunderbird. Other incentives provided by the Algiers were telephones in every room, a heated outdoor pool, a cocktail lounge, a coffee shop, and a television in each room. Though smaller than the Thunderbird, it was by no means underutilized.
Since the Algiers was built without an area for gaming, it was given more space to craft larger rooms, making it have a reportedly more comfortable feel than the larger casino resorts on the Strip. It was qualities like this that allowed the Algiers to outlive the Thunderbird, and it held a reputation for being a quiet, more relaxed space to stay on the Las Vegas Strip all the way through to the late 1990s. In 2001, the Algiers began working on plans to expand and add a casino and other amenities, but this project was soon put on hold. Instead of the project being finished, it instead was decided that the Algiers was to be destroyed. The Algiers held one final farewell extravaganza in 2004, and closed in August of that year. The Algiers no longer remains on the Las Vegas Strip.
Sources
http://www.lvstriphistory.com/ie/algiers.htm http://www.a2zlasvegas.com/hotels/closed/algiers.html http://lasvegassun.com/news/2001/jul/26/lasting-impression-unchanged-since-the-50s-the-alg/