Devil's Lake State Park
Introduction
Located south of Baraboo, Wisconsin, Devil's Lake State Park is Wisconsin's largest Park. It covers over 9,000 acres and the lake itself is 360 acres, stretching about a mile long and a half mile wide. The park's notable feature are the high quartzite bluffs that surround the lake, providing visitors with excellent view of the landscape. The lake is situated on what was the western edge of the ice sheet that reached more than halfway south into the state during the last ice age. The lake was formed when the ice sheet, as it was receding, deposited rocks and soil on either end of the lake; the bluffs remained, forming the outline of the lake. Given this natural history, the park has been the site of geological research for quite some time. The National Park Service declared the park a National Natural Landmark in 1974. The park receives over one million visitors each year.
Images
Devil's Lake. The beach can been seen in the background.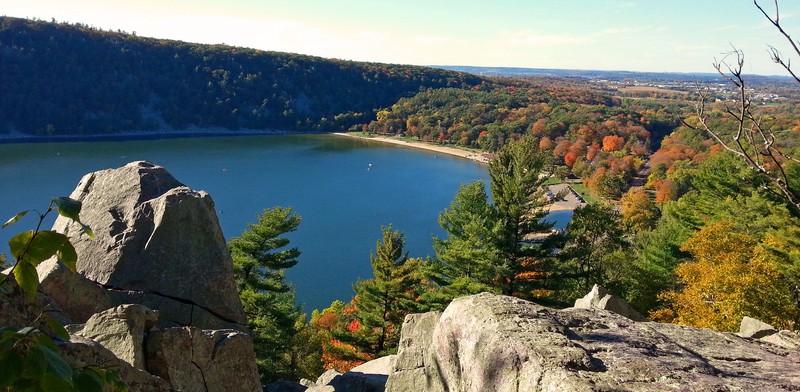 One of the famous rock formations at the park, called Devil's Doorway.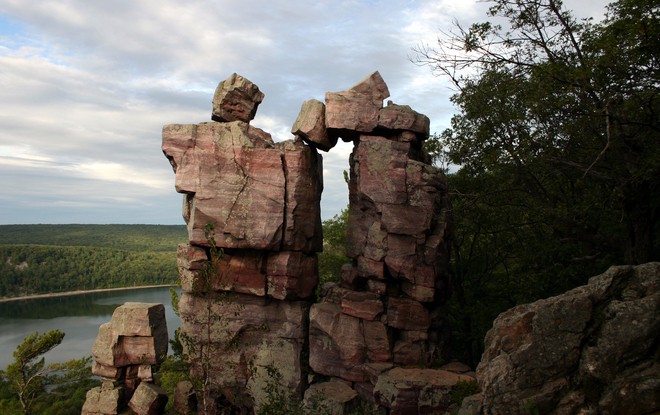 Backstory and Context
The park was established in 1911 but had been well known for some time beforehand. The first recorded non-Native American visited the site in 1832. As railroads reached the park, tourism boomed. Notable visitors include Ulysses S. Grant and Abraham Lincoln's wife. The hotels that were built during this time no longer exist as the park has returned to a more natural state. It contains the largest mixed conifer-decidous forest in the midwest.
Sources
https://en.wikipedia.org/wiki/Devil%27s_Lake_State_Park_(Wisconsin) http://dnr.wi.gov/topic/parks/name/devilslake/history.html
Additional Information