Goliad State Park
Introduction
Goliad State Park is the home of the restored Mission of Nuestra Señora del Espíritu Santo de Zuñiga. The park headquarters is also the gateway to tours for the ruins of Mission Rosario State Historic Site and the museum at Zaragoza Birthplace State Historic Site, which are located not far from the park.
Images
"Mission espiritu santo 2007" by Larry D. Moore. Licensed under CC BY-SA 3.0 via Wikimedia Commons - https://commons.wikimedia.org/wiki/File:Mission_espiritu_santo_2007.jpg#/media/File:Mission_espiritu_santo_2007.jpg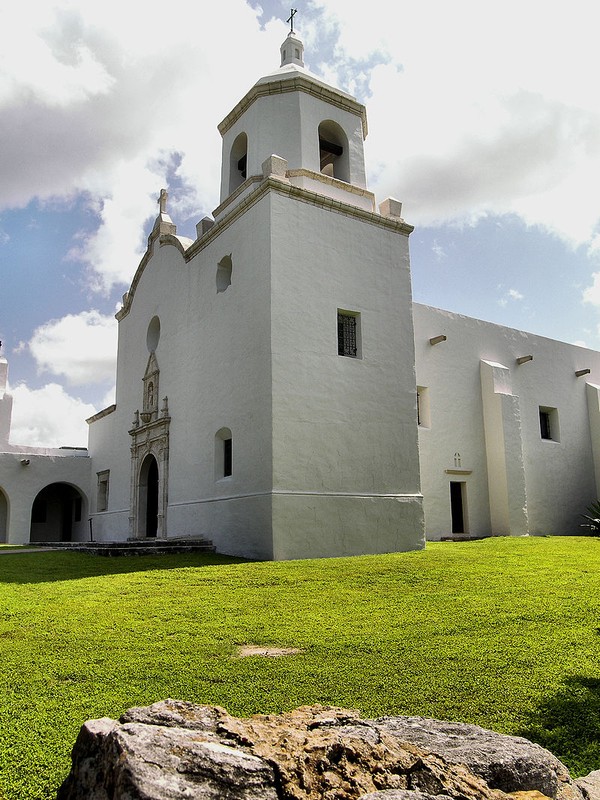 Backstory and Context
Mission Espíritu Santo was first built at Matagorda Bay along side the Presidio La Bahía in 1722. After moving the mission twice, the mission and presido were permanently settled on the San Antonio River in 1749. Native Indians lived on the mission under the instruction of Franciscan priests, who imparted the Roman Catholic religious teachings to them. The main occupation of the mission residents was ranching and because it became so well-known for its livestock, the mission became a center of trade. However, according to the Interpretive Guide to Goliad State Park, the mission closed in 1830 due to" declining Indian populations, lack of money and political turmoil in Mexico forced it to close." Fortunately, the Texas Parks and Wildlife Department began restoration efforts in the 1970s and now maintain the historic site, which is open for public tours.
If one goes just four miles west of the park, they will find the ruins of another mission, Mission Rosario. In 1754, this mission was built for the Karankawa Indians, who were nomadic and did not like the agricultural lifestyle the Franciscan priests offered them. While the priests were not successful assimilating many Karankawa, some of the indian groups decided to take advantage of the promise of food and shelter. According to the Interpretive Guide to Goliad State Park, "Rosario became the center of a large livestock operation. Ten years after its founding, the mission priests and Indians managed more than 4,000 branded cattle. Mission Rosario was abandoned in 1781, briefly reopened in 1789 and closed for good in 1792."
The Texas Parks and Wildlife Department obtained the site 1972, and the mission ruins comprise one of the last archaeological excavations sites in the state. The public can tour the ruins by appointment.
Just outside of the south, about a quarter of a mile to the south, is the birth place of a Mexican hero, Ignacio Seguín Zaragoza, who was a war general during Mexico's struggle for independence from France. He led the army in the famous Battle of Puebla on May 5, 1862, which became a widely celebrated holiday known as Cinco de Mayo. According to the Interpretive Guide to Goliad State Park, "[T]he Texas legislature proclaimed Goliad the official site for Cinco de Mayo."
Sources
http://tpwd.texas.gov/state-parks/goliad http://tpwd.texas.gov/publications/pwdpubs/media/pwd_br_p4502_0063j.pdf
Additional Information