Galloway House
Introduction
Author-Uploaded Audio
The Galloway House is a historic home located in Fond du Lac, Wisconsin, part of the Historic Galloway House and Village, which is operated by the Fond du Lac County Historical Society. The original portion of a simple house was built ca. 1846 by Selim Newton until Edwin H. Galloway purchased the home in 1868. Galloway hired Newton's son-in-law, Thomas H. Green, as the architect for each of the additions up to the final one in 1880. The house is listed on the National Register of Historic Places (1976) and is a good example of Victorian Italianate architecture.
Images
Galloway House front view
Galloway House in the fall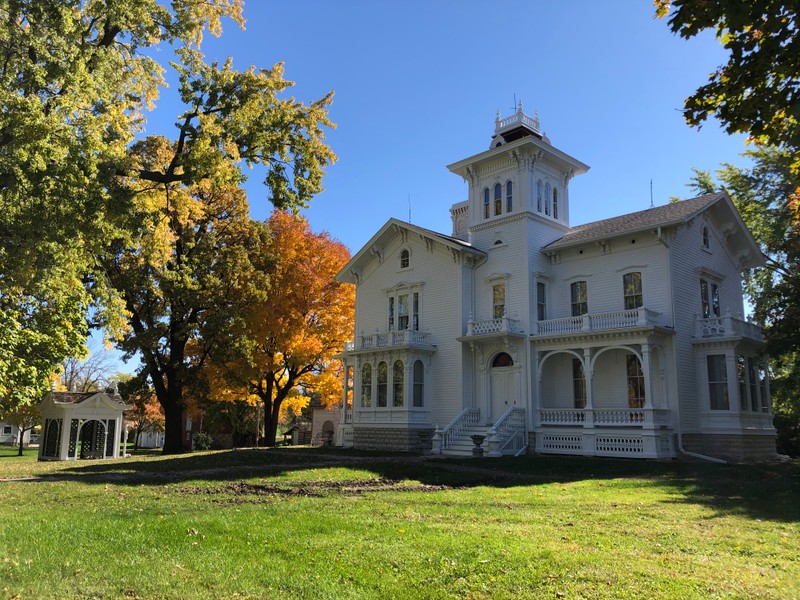 Backstory and Context
Author-Uploaded Audio
The 30-room mansion was the "farmhouse" of the Galloway family for three generations. In addition to farming, Galloway family pursuits included the Moore Galloway Lumber Company, Savings Bank of Fond du Lac, political offices, award-winning dairy, and cold storage. Originally a simple cabin when purchased from Selim Newton, one of the county's first highway commissioners, ornate additions by the Galloways turned the house into a showplace of gracious living and entertaining.
The hand-carved woodwork of the staircase and exterior details was supervised by William Heathcote, a retired church architect and well-known woodworker, who oversaw the woodworking on Pullman cars for the Northwestern Railroad. The interior pine was milled at the Galloway's own lumber company. Etched glass is seen in all of the first floor doors and ruby etched glass in the doors of the second floor hall. The hand-stenciled ceilings were painted, and the wallpapers were most likely all hung by Jacob Thomsen, a contracting decorator and later owner of Thomsen Decorating Company of Fond du Lac.
Both Newton and Galloway were originally from Lewis County, New York. James D. Doty, the second governor of the Territory of Wisconsin, encouraged Newton to move to Fond du Lac (Doty chose the site for the city as well as the capital, Madison). Doty convinced Edwin H. Galloway to move to Fond du Lac as well. The house remained in the Galloway family until 1955 when his grandson, Edwin P. Galloway, at the urging of his sister Theresa Galloway Ebernau, donated the home to the Fond du Lac County Historical Society.
Sources
Katherine E. Hundt. "Edwin Galloway House," National Register of Historic Places. 5-28-15.
Weisiger, et al., Marsha. EDWIN H. AND MARIA GALLOWAY HOUSE, Society of Architectural Historians. https://sah-archipedia.org/buildings/WI-01-FD7.
McKenna, Editor, Maurice. Fond du Lac County Wisconsin Past and Present. Volume II. Chicago, IL. The S. J. Clarke Publishing Company, 1912.
50 Years in One Town. The Painters Magazine and Paint and Wall Paper Dealer. October 10th 1920. 16 - 16.
Additional Information