Fargo Air Museum
Introduction
The Fargo Air Museum includes dozens of historic aircraft from the early 1900s and World War II era to the age of jet aviation. Like many other air museums, the strength of this museum's collection lies in its numerous aircraft from the World War II era. However, the museum includes static and operational aircraft from the early 1900s to the modern era-including a Global Hawk unmanned reconnaissance drone. In addition to the size of its inventory, Fargo's museum is unique in that a majority of its historic aircraft have been fully restored and are in flying condition.
Images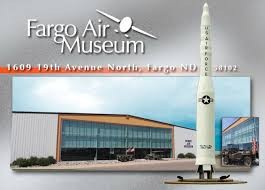 The Century of Aviation mural features pioneering North Dakota aviator Charlie Klessig in the center.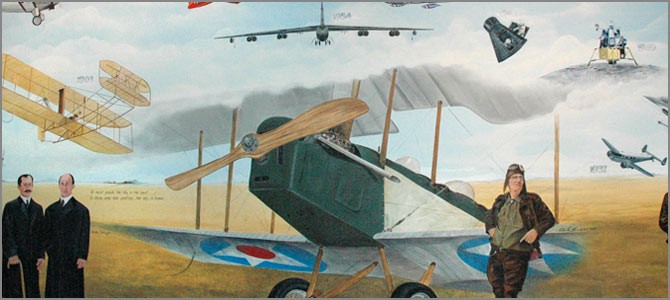 Backstory and Context
The museum grew out of conversations among local residents at one of the city's air shows during the late 1990s. By 2001, the group had obtained the use of a hangar and had restored several historic aircraft. Thanks to local donors, the museum now owns its own hangar and offers a large collection of historic aircraft that visitors can see on their own, or with a formal tour led by one of the museum volunteers.

Highlights of the museum include a replica of the Wright Flyer and other historic biplanes, as well as static displays of American and European aircraft such as a Polish jet trainer aircraft. There is also a nmber of planes from the World War II era that are in flying condition, including a P-51 Mustang, a Piper Cub, a Cessna L-19 "Bird Dog" observation plane, a PT-19 raining aircraft from World War II, and a Corsair with its infamous inverted gull wing-an iconic fighter plane that was used by the Navy during World War II. remained in US service with the Strategic Air Command until 1949. There are also many non-American aircraft at the museum, including L-39 Aero Vodochody Jet Trainer from Ukraine.

The museum hosts a number of events throughout the year. In addition to seeing historic aircraft, the museum offers a number of exhibits or memorabilia, photographs, and aviation artifacts. The museum also houses one of the region's largest libraries of books and other materials on the subject of aviation history.


Additional Information