Las Vegas Art Museum
Introduction
The Las Vegas Art Museum was originally a museum dedicated to bringing international, contemporary art into the Las Vegas community. While it was open, the Museum not only provided exhibits for the community, but also lectures, outreach program, and publications in order to bolster public interest in the arts. The Museum closed in 2009, apparently due to loss of funds from donations, but has kept the name in the hopes that it may resurface in more stable economic times.
Images
A view of the LVAM's former building.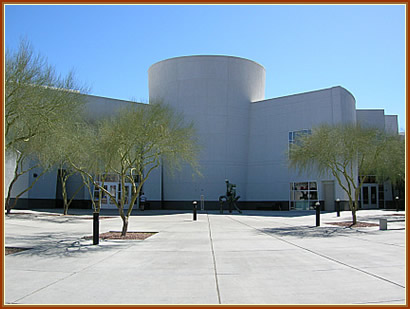 Backstory and Context
The Las Vegas Art Museum was the brainchild of the Las Vegas Art League, a group of like-minded art lovers with a vision to bring fine art to the city of Las Vegas. The group formed in 1950 and made their base of operations in a ranch-style house in Lorenzi Park and set to work transforming it into a display house for fine art. At that point in time, it was not necessarily a museum for fine art, but instead a venue for the Art League to display their collections as a group of collectors.
In 1974, the Art League decided to undergo a name change to the Las Vegas Art Museum in order to reflect a more community-minded mission and approach to their art displays, and incidentally, this change made the LVAM the first fine arts museum in the state of Nevada. The Museum found success in its programs over the years, and in 2006, the Museum widely expanded its rotations of exhibits. Despite this, donor contributions fell over the following years, and on February 28th, 2009, the LVAM closed due to the drops in donations.
Sources
http://www.lasvegasartmuseum.org/ https://en.wikipedia.org/wiki/Las_Vegas_Art_Museum