Astor Fur Warehouse (Fur Trading Museum)
Introduction
The Astor Fur Warehouse a historic stone building located on the banks of the Mississippi River in Prarie du Chien, Wisconsin. Built in 1828 by fur trader Jean Joseph Roulette of the American Fur Trade Company, it is a National Historic Landmark and has been incorporated into the nearby Villa Louis estate which is operated by the Wisconsin Historical Society. Today, it is a fur trading museum, featuring exhibits and artifacts that tell the history of fur trading in the Upper Mississippi River region. The building is also listed on the National Register of Historic Places. It is the only fur trading warehouse remaining in the Upper Mississippi.
Images
The Astor Fur Warehouse, now the Fur Trading Museum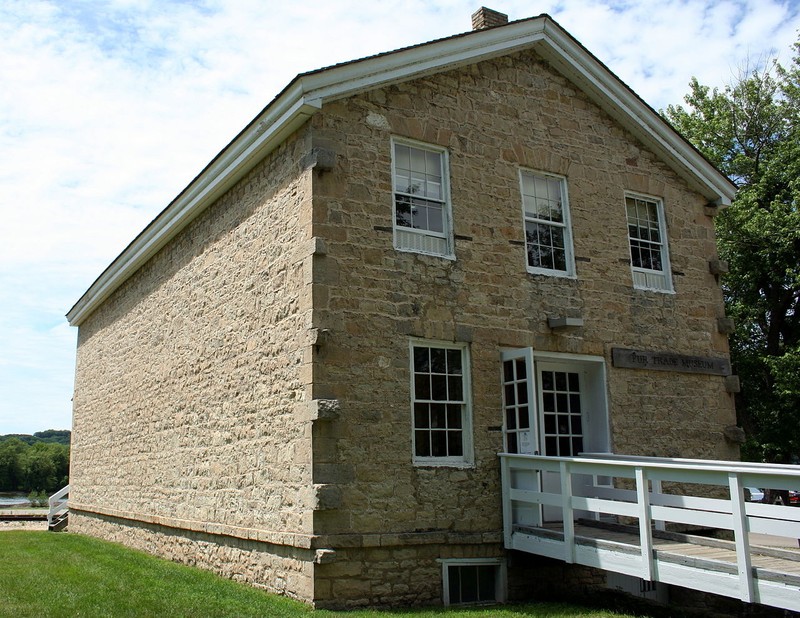 Backstory and Context
The American Fur Trading Company was founded by German-born businessman John Jacob Astor. He first built a trading post in Prairie du Chien in 1817. The company became very successful and its eventual reach stretched from the Great Lakes, parts of Canada, and to the Pacific coast. The fur trade began to decline around the 1860s and Astor moved to New York City. The building was then used as warehouse (for other businesses), a store and machine shop. It is not clear when it was incorporated into Villa Louis and became a museum.
Sources
http://tps.cr.nps.gov/nhl/detail.cfm?ResourceId=609&ResourceType=Building https://en.wikipedia.org/wiki/Astor_Fur_Warehouse https://en.wikipedia.org/wiki/John_Jacob_Astor http://villalouis.wisconsinhistory.org/Explore/FurTradeMuseum/Front.aspx#slide
Additional Information