The Butterfly Lodge Museum
Introduction
The Butterfly Lodge Museum is a museum created from the lodge of the late author James Schultz and his artist son Hart Merriam "Lone Wolf" Schultz. The museum displays many of the two's works, and it seeks to broaden public understanding and cultural inspiration through experiencing these works firsthand.
Images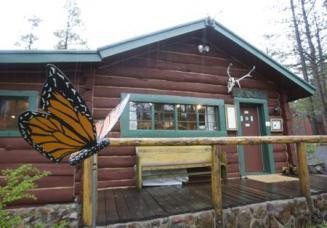 Backstory and Context
In 1911, the land on which the Butterfly Lodge would be built was under ownership of the U.S. Forest Service during a time when the Service provided civilians with housing in exchange for developing the land around it. James Willard Schultz was selected for this program, and the construction of the Lodge began in 1913, solely out of ponderosa pines and Douglas firs, after Schultz selected the patch of land because of the multitude of butterflies that congregated in the area. The Butterfly Lodge was quickly completed in 1914, and Schultz moved in to continue his career as an author.
A short time before his time at the Lodge, James Willard encountered his son Lone Wolf in Los Angeles, who had by then earned a reputation for being able to ride and draw anything on four legs, and the two would often go hunting together, using the Butterfly Lodge as their hunting camp. Willard built a smaller guest cabin for Lone Wolf and his wife by 1920, and not long after that, Willard gave the Lodge entirely over to his son, where he lived until he died in 1970. After Lone Wolf's death, the Lodge was used for a time as a lodging for firefighters, and in 1992, the Lodge was purchased with the intent to convert it into a museum showcasing the works of the father and son that worked there. Renovations and additions have continued into the early 2010s, bringing forth new ways to experience and appreciate the work of the two artists it was once inhabited by.
Sources
http://butterflylodgemuseum.org/history/
Additional Information