Old Clock at Zion's First National Bank
Introduction
For over a century, the Old Clock at Zion's Bank has been one of Salt Lake's leading downtown landmarks. Over the years it has been powered by, in turn, a water wheel, hand wound springs, an electric motor powered by wet cell batteries then standard line voltage then by a master clock in the bank. For many years people planning on getting together in downtown Salt Lake City would simply say "I'll meet you at The Old Clock." The clock is listed on both the state and national historical registries.
Images
Old Clock at Zion's First National Bank as it looks today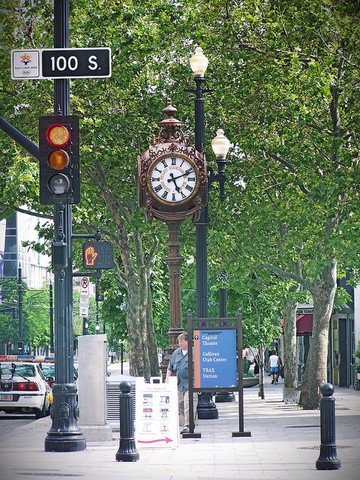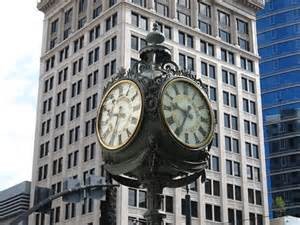 Old Clock at Zion's First National Bank in 1912, after it received some new gears.
This is the earliest known photo of the Old Clock, taken between 1873-1880. The building behind the clock was the old Eagle Emporium mercantile store. Years later the building would be added onto and become Zion's First National Bank.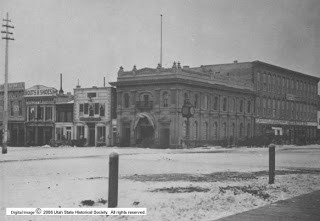 Backstory and Context
Among the historic landmarks in Salt Lake City, few have provided such continuous service as the "Old Zions Bank Clock". While no official account tells the story, tradition says the clock arrived in the 1870s in a wagon pulled bu oxen. The foundry mark on the base of the clock shows the Robert Wood & Co. in Philadelphia cast it in iron shortly after the end of Civil War.

Originally installed within 30 feet of this site, the clock continues to withstand the test of time. A diversion from City Creek, which ran down Main Street, originally drove a water wheel that operated the clock. Later, the clock kept time with springs and wet cell batteries. By 1912, the original gears had been replaced and the clock was connected to the new electricity system in the bank. In 2007, the clockworks was rewired and restructured. Old paint was sandblasted off the ironwork, and the surface was refinished.

Additional Information