Caesars Palace
Introduction
Caesar's Palace is a prestigious Las Vegas Strip luxury hotel and casino, known for its opulence and grandiosity. Opened in 1966 by Jay Sarno, the hotel was made, architecturally as well as in function, to recreate the atmosphere experienced in Roman society during which the Roman Empire reigned. The Palace hosts various shows, restaurants, and gaming amenities on the Las Vegas Strip. It also has a giant outdoor colosseum that has historically hosted some of the largest events of the past 50 years. Since its opening, it has become an iconic hotel and casino for visitors and regulars alike.
Images
A view of Caesars Palace.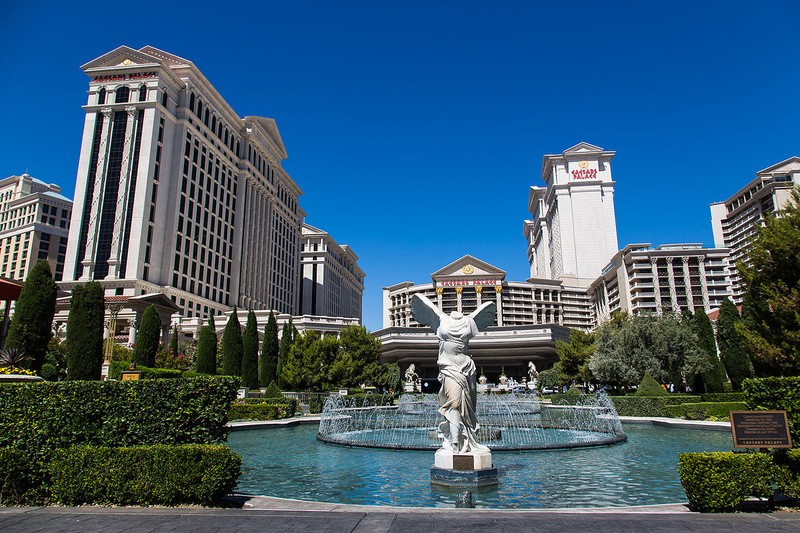 Marvin Hagler and Thomas Hearns during their fight at Caesars Palace, considered by many to be the greatest boxing bout of all time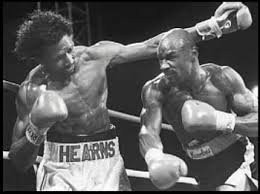 The famous colloseum at Caesars Palace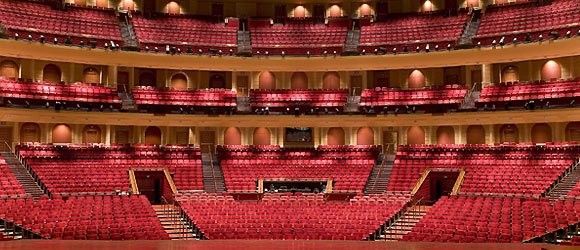 Backstory and Context
In 1962, World War II veteran and entrepreneur Jay Sarno came to Las Vegas with a vision to build a casino and hotel that would surpass the glamor of anything that was currently on the Las Vegas Strip. While construction began in 1965, a great deal of design and planning went into the concept of the hotel and casino, even down to whether or not there should be an apostrophe in "Caesars," which was ultimately removed in favor of the idea that anyone staying could feel like a Caesar. The casino opened on August 5th, 1966 with a lavish three-day opening event, including thousands of pounds of food, a stage production of "Rome Swings," and even a "Cleopatra" character who greeted each guest personally.
The hotel has lasted for more than 50 years, an impressive accomplishment amidst a changing scene on the Las Vegas strip, where similar establishments rarely last long. Part of what makes this place successfully endure is its massive outdoor colloseum, which has helped make the Palace a city center of sports and entertainment. The colloseum has functioned throughout its existence as a convention arena, hosting spectacles ranging from music performances to different sports. It is probably most famous as a venue for world-class boxing matches. Before, Madison Square Garden in New York City was the center of the biggest fights, but starting in the late 1970s that all changed as the bouts started to be relocated to Caesar's Palace. To this day, the biggest names in boxing have fought here. Some of them include Oscar De La Hoya, Julio Chavez, Sugar Ray Leonard, Mike Tyson, Evander Holyfield, Vladimir Klitschko, and Muhammad Ali in his last title bout.
A significant consequence of the rich boxing history of Caesar's Palace is that the Colosseum created a market for a sport that had not previously existed in any especial magnitude prior to its creation. It established the city of Las Vegas, Nevada as the utmost premier place for any world-class boxing match to be had at, and only recently has it been eclipsed by the MGM Grand Arena. Subsequently, other casinos in Las Vegas followed suit and in an effort to compete, created boxing venues of their own. This served to further legitimize boxing prestige and popularity in the city, and helped to shape many aspects of the city's reputation and future development.
Not only is the hotel's fame seated upon boxing and other types of sports (for instance it hosted the 1981-82 Grand Prix) but also on it's countless performances by various celebrities. Frank Sinatra was listed as the Vice President of entertainment of the Palace and sang here many times throughout his career. Celine Dion filmed her show here, paving the way for future contemporary and trendy artists to take up residency in Las Vegas and other cities and invest their efforts in local entertainment. Additional celebrities who have performed over the years include Jerry Seinfeld, Janet Jackson, Elton John, Mariah Carey, Celine Dion, Diana Ross, David Copperfield, and Rod Stewart, to name a few. All of the talented people that have performed at the Palace contribute to the colorful history and diversity of Caesar's Palace as a center of entertainment.
Though the Palace was highly popular for years after its opening, in 1969, the Palace's financial manager, Jerome Zarowitz, was accused by a Federal Organized Crime Task Force of being affiliated to organized crime rings in New England and New York. Zarowitz was ultimately never tried for these charges, but in the midst of the scandal, the Palace was sold to Stuart and Clifford Perlman. After the sale, Caesars Palace underwent several renovations, additions, and passings of ownership, beginning with the construction of the Centurion Tower in 1970, and followed by the Palace Tower in 1997. Among other things, Caesars Palace has seen its share of celebrity guests, as well as stunts by the likes of Evel Knievel. Today, Caesars Palace continues to attract a multitude of guests on the Las Vegas Strip.
Sources
http://www.a2zlasvegas.com/hotels/history/h-caesars.html http://classiclasvegas.squarespace.com/a-brief-history-of-the-strip/2008/7/20/las-vegas-caesars-pala... http://gamboool.com/caesars-palace-history
"Ranking the Greatest Venues in Boxing History." Bleacher Report, http://bleacherreport.com/articles/2080106-ranking-the-greatest-venues-in-boxing-history. Accessed 2 October 2017.
"Caesar's Palace, Las Vegas: The Venue That Changed Boxing." Ringside boxing show, http://www.ringsideboxingshow.com/CaesarsPalaceHistory.html. Accessed 1 October 2017.
"15 Fun Facts and Historical Notes You Never Knew About Caesars Palace." Caesars, https://www.caesars.com/las-vegas/hotels/caesars-palace-fun-facts. Accessed 1 October 2017.
Additional Information