The Little Church of the West
Introduction
The Little Church of the West is a Las Vegas Strip wedding chapel that is modeled after a pioneer town church. Established in 1942, the Church was built in order to capitalize on the burgeoning wedding chapel enterprise. The Church itself is the oldest building on the Strip, which is just one reason why it has gained a spot on the United States National Register of Historic Places. Today, the Church continues to be a hot spot for Las Vegas weddings.
Images
A view of the Little Church of the West in its current location.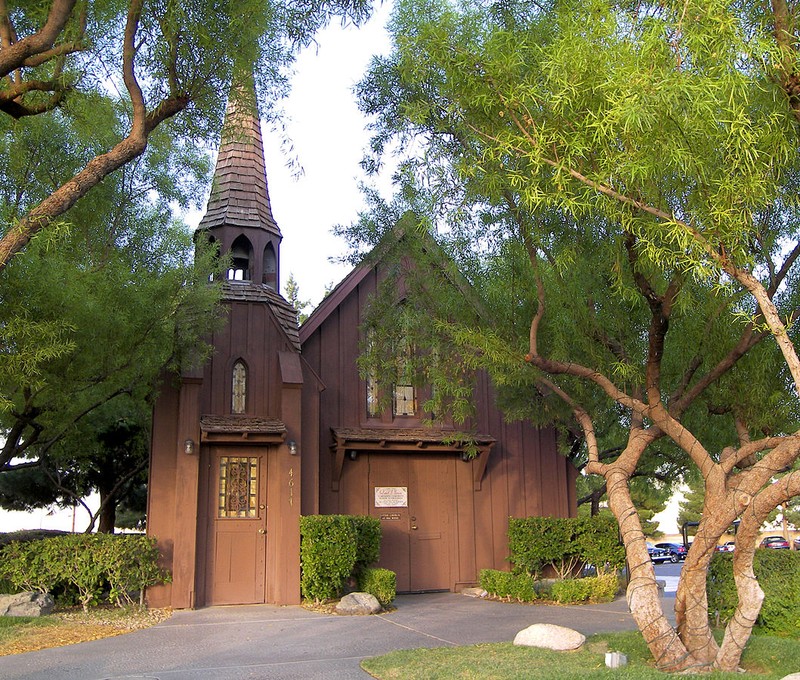 Backstory and Context
In 1941, entrepreneur William J. Moore Jr. brought forth a design for a resort hotel in the Las Vegas area, and had considered constructing a wedding chapel as part of the resort, as well. Part of the original idea for the Chapel was that it was to resemble an old west pioneer town church, and to do this, it was constructed of California redwood for the interior and cedar for the exterior, and used other older props, such as Victorian gas lamps. By 1942, the Little Church of the West was constructed, and it was the first wedding chapel that had not been converted into one from another building, making it the first originally designed wedding chapel. Additionally, it was the first building to actually be constructed on the Las Vegas Strip.
Though the Little Church has remained almost entirely unchanged from the time of its founding, it has experienced several moves as the Las Vegas Strip began to develop. It first moved to the south side of the Strip in 1954; in 1978, it moved to the Hacienda Hotel's plot of land; and in 1996, the Little Church moved to the corner of Rusell and Las Vegas Boulevard, where it currently resides. Throughout its series of moves and in between, the Little Chapel remained popular due to its simple distribution of marriage ceremonies, and has since been inducted into the National Register of Historic Places.
Sources
http://littlechurchlv.com/chapel-tour/
Additional Information