Lion House
Introduction
The Lion House was constructed in 1856 for Brigham Young. Young was the second President of The Church of Jesus Christ of Latter-day Saints. He was also the first Governor of Utah Territory. Young was the father of 57 biological children. He also adopted and fostered children. The Lion House was built to home Young and his large family. The house adjoins the historic Beehive House on the west, which acted as the official governor's residence. During the 1920s, Lion House served as the location of the domestic science department of Latter-day Saint's University. Today, the ground floor houses a functional, cafeteria-style restaurant known as "The Lion House Pantry."
Images
Young had a lion installed at his residence in part because it reminded him of a similar statue at an affluent home in Vermont that he had seen as a young man. "Lion of the Lord" was also one of Young's nicknames among the Latter-Day Saints.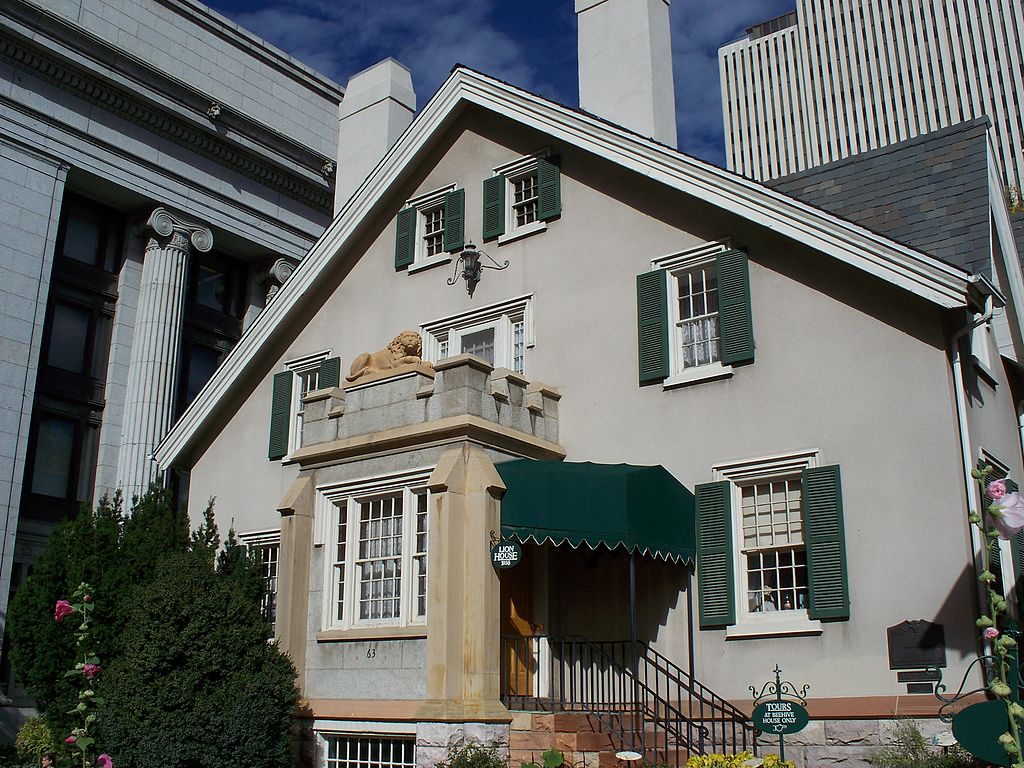 famous Lion House Pantry rolls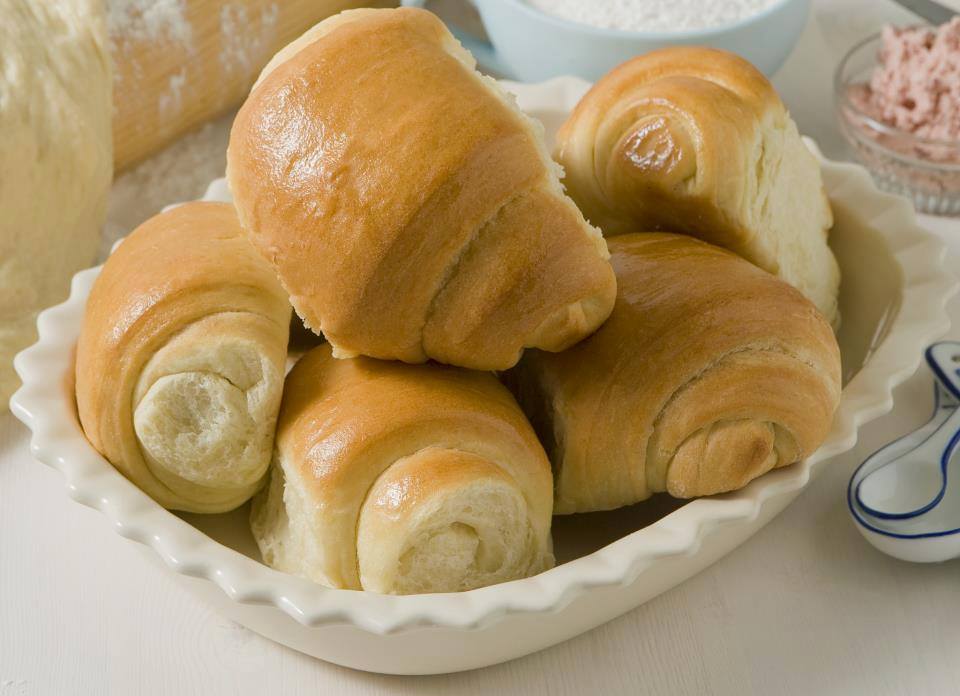 Late 1860s photo, side shot, of Lion House. Beehive House can be seen, partially, on far right of photo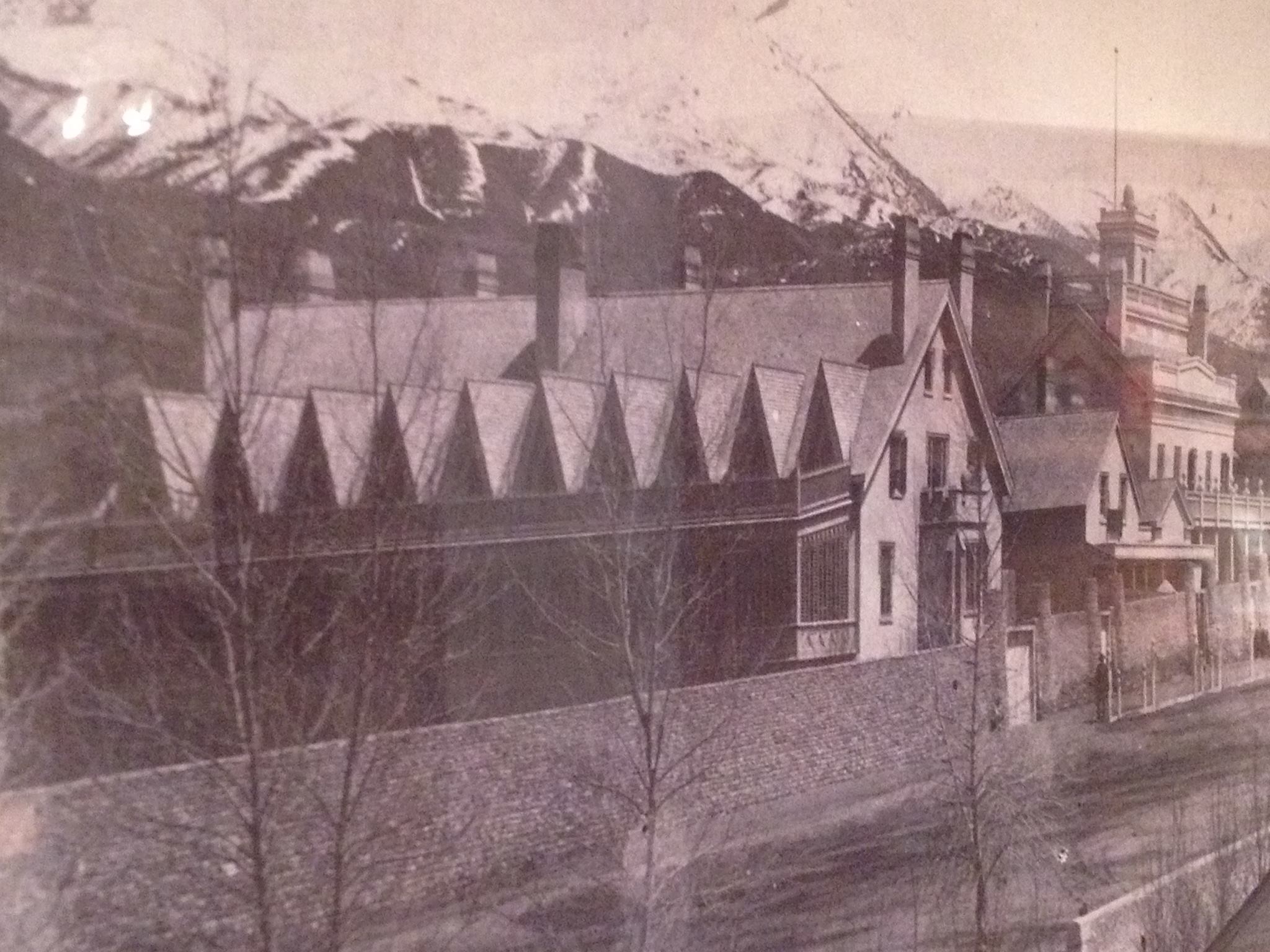 Brigham Young was the second President of the Mormon Church and the first Governor of Utah. He founded several cities aside from Salt Lake and is credited with having organized one of the greatest migrations of the Westward Expansion.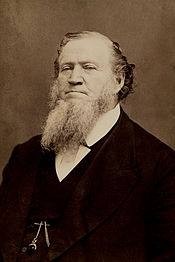 Lion House when it was being used by LDS University (Latter-Day Saints College). The Salt Lake Temple can be seen in the background because the Hotel Utah and Church Administration Building had not been built yet.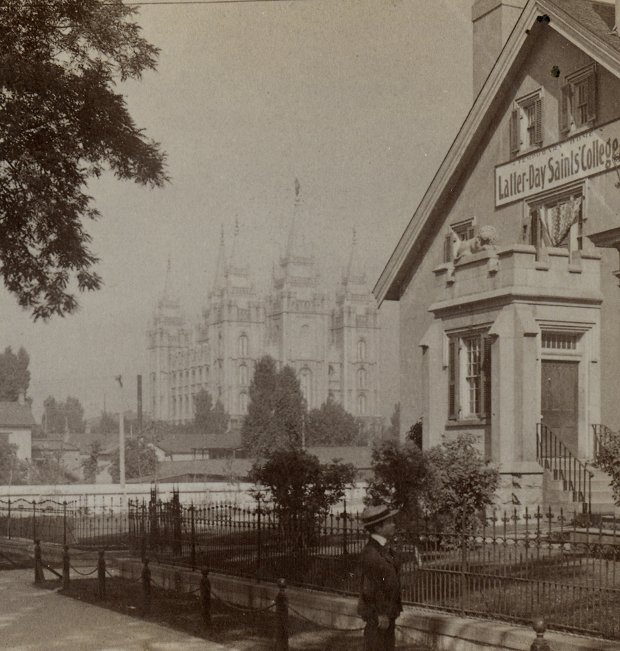 Backstory and Context
Brigham Young was the son of John Young and Abigail "Nabby" Howe. He was born Whitingham, Vermont, and began his young career as a traveling carpenter and Blacksmith. He converted to the Mormon faith in 1832. Young would then go on to perform missionary work in Upper Canada. He helped establish a religious community in Kirtland, Ohio, and aided in organizing the exodus of Latter-day Saints from Missouri in 1838. After the 1844 murder of Joseph Smith (who was the founder, and First president of the Church), the question of succession brought Brigham Young's name to the forefront. Young was named the second President of the Church three years after the death of Smith. Unfortunately, Young inherited all the trials and tribulations of his predecessor.
Some of the earlier, Mormon practices were frowned upon. There was widespread acceptance of slavery and polygamy within the church This garnered a negative reputation among Gentiles (a name for non-members of the church). Young and his constituents were forced to relocate to the Salt Lake Valley due to conflicting beliefs between Mormons and Gentiles. At this time, Salt Lake Valley was apart of Mexico, but Young organized an exodus. This exodus would first take 2,500 Mormon pioneers to Nebraska from 1846 to 1847. Then the pioneers would move on to the Salt Lake Valley. At the time of their arrival on July 24, 1847 (now recognized in Utah as "Pioneer Day") the area had come under American Control as a result of their war with Mexico.
Young initially petitioned for Congress to create the State of Deseret from those lands gained by America during the Mexican Cession. This resulted in the Compromise of 1850 that drew out the boundaries of Utah Territory. On February 3, 1851, as colonizer and founder of Salt Lake City, Brigham Young was officially selected as the territory's first governor and superintendent by President Millard Filmore. President James Buchanan would later install a non-Mormon governor after being made aware of the reports of widespread and systematic obstruction of federal officials in Utah.
Along with his choice of new governor, Buchanan also sent troops to garrison forts in the new territory. When Young received word of these actions, he retaliated by calling on his militia to ambush the federal force. What resulted was the Utah War (1857 – 1858), where Young managed to hold the U.S. Army at bay for an entire winter before eventually relenting and agreeing to step down as governor. He was later pardoned by President Buchanan and continued to serve as President of the Church until his death in 1877.
Constructed in the year preceding the Utah Wars, the historic Lion House originally served as a more private residence for Brigham Young and his family than official residence, the Beehive House. It is also where the Young Ladies' Department of the Ladies' Cooperative Retrenchment Association was founded in 1870. In 1931 that same association received approval from the First Presidency to use the Lion House as a social center for girls and women after the departure of Latter-day Saints' University's domestic science department from the location.
The Lion House overcame the threat of demolition in the 1960s and, after going through a series of renovations and restorations, it was eventually reopened as a restaurant and reception center. The Lion House Pantry has gained international fame for their rolls and has even appeared in an episode with Bobby Flay's on the Food Network.
Sources
Lloyd, R. Scott. "Little-Told History" of Beehive House and Lion House Comes to Life at Symposium. The Church of Jesus Christ of Latter-Day Saints. Accessed February 02, 2018. https://www.lds.org/church/news/little-told-history-of-beehive-house-and-lion-house-comes-to-life-at....
Brigham Young. History. Accessed February 02, 2018. http://www.history.com/topics/brigham-young.
Brigham Young. PBS. Accessed February 02, 2018. http://www.pbs.org/weta/thewest/people/s_z/young.ht.
Additional Information