Fenwick Island Lighthouse
Introduction
The Fenwick Island Lighthouse is a historic lighthouse built in 1858 along the border of Delaware and Maryland. The lighthouse is owned by the State of Delaware and is maintained and operated by the New Friends of the Fenwick Island Lighthouse. A small museum is at the base of the lighthouse, which is 87 feet tall, but visitors are not allowed to climb to the top. It is the last remaining lighthouse on the the Delaware/Maryland coast and given its historical significance, was placed on the National Register of Historical Places in 1979.
Images
Fenwick Island Lighthouse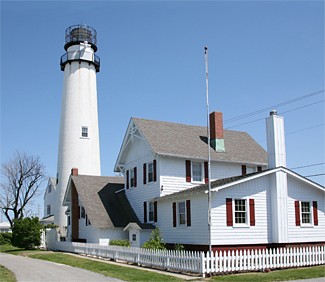 Backstory and Context
The increasing number of shipwrecks along the Delaware and Maryland coast prompted Congress to appropriate funds to construct the lighthouse on Fenwick Island in 1856. It was built in 1858 but not lit until a year later. At the time of its construction, the lighthouse was very isolated and could only be reached by crossing the narrow body of water, called "The Ditch," that separated the island from the rest of the state by boat until bridges were constructed. The island is well-populated today. The lighthouse used a Fresnel lens and had a range of 15 nautical miles. It was automated in 1940 and deactivated in 1978 and not relit until 1982. That same year the Friends of the of Fenwick Lighthouse was formed to maintain the lighthouse. In 2007, the "New" Friends of the of Fenwick Lighthouse was established.
Sources
"The Lighthouse," http://fenwickislandlighthouse.org/the-lighthouse. Retrieved 7-8-15. Dick Carter. "Fenwick Island Lighthouse Station," National Register of Historical Places. http://pdfhost.focus.nps.gov/docs/NRHP/Text/79000642.pdf. Retrieved 7-8-15.
Additional Information