DuPont Historical Museum
Introduction
A local and regional history museum located in the former city hall and opened to the public in 1977.
Images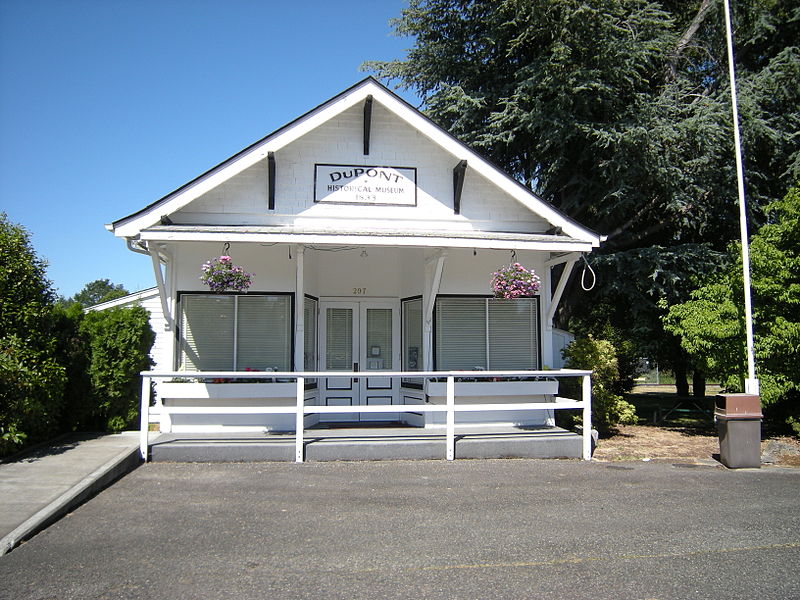 Backstory and Context
History of DuPont from the museum webpage:
This growing city in Pierce County, Washington is a community with many modern homes and businesses. Still, beneath the 21st century surface lies an interesting history that dates back thousands of years. Native Americans were the first people to live in the DuPont area. A Native village existed for centuries next to the mouth of the Sequalitchew Creek. Descendants of the village inhabitants are now members of the Nisqually Indian Tribe.
From 1833 to 1870 the Hudson's Bay Company, a British corporation, operated a trading post called Fort Nisqually in the DuPont area. Initially involved in fur trading it later established the Puget Sound Agricultural Company, a farming enterprise. Fort Nisqually was the first long-term Euro-American settlement on Puget Sound. It brought new ideas and technology to the region. Close economic and social ties connected the Company's multicultural workers and Native Americans.
Citizens of the United States began to enter the DuPont area in the 1840s. American missionaries established the Nisqually Methodist mission school which operated from 1839-42. In 1841 U.S. explorer Charles Wilkes set up an observatory to survey, map and chart the Puget Sound waters and organized the first celebration of American Independence Day west of the Missouri River. Settlers from the United States started arriving later in the decade.
Edward Huggins, last manager of Fort Nisqually, homesteaded the site after the post closed. In 1906 he sold his land holdings to the DuPont Company, which constructed an explosives plant and company town. For decades this company produced civilian and military explosives that were used around the world. Since the DuPont Company ended local operations in 1976, the City of DuPont has seen a period of change and growth. Weyerhaeuser's master-planned community has increased DuPont's population from 601 residents in 1994 to today's 8,700 residents and growing.
Additional Information