Mukilteo Lighthouse
Introduction
Listed on the National Register of Historic Places, the Mukilteo Lighthouse is historically significant for its past and ongoing role as an active navigational aid. It has guided ships into the Puget Sound, on east side of Whidbey Island, since was built in 1906. It is the centerpiece of Lighthouse Park, which features a beach, shelters, and children's play areas. Owned by the city, the Mukilteo Historical Society operates the lighthouse, offering tours and interpretive exhibits exploring the history of the station. The light itself is visible 10 miles away and is illuminated by a fourth-order Fresnel lens. Other buildings at the site include the engine house, two former keeper's dwellings, the oil house, and a garage. The structures are all well preserved. The Coast Guard operates the light and fog horn, which is in the lighthouse building.
Images
Built in 1906, the Mukilteo Lighthouse is still an active navigational aid.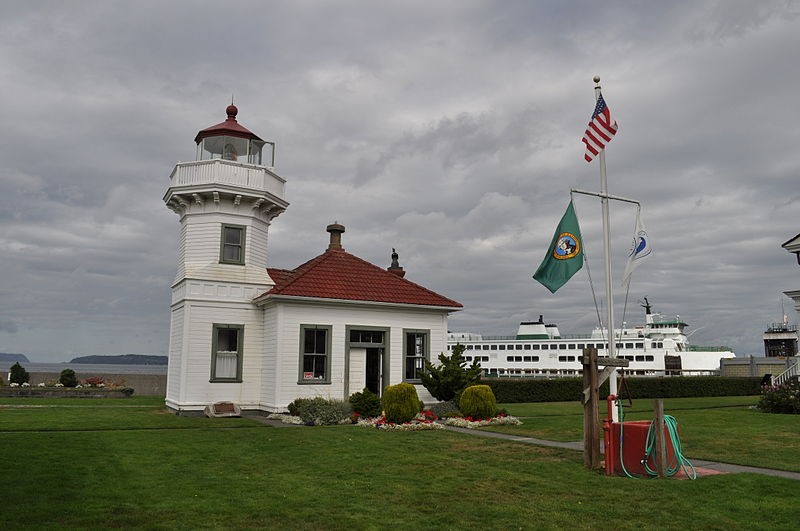 The fourth-order Fresnel Lens was manufactured in 1852.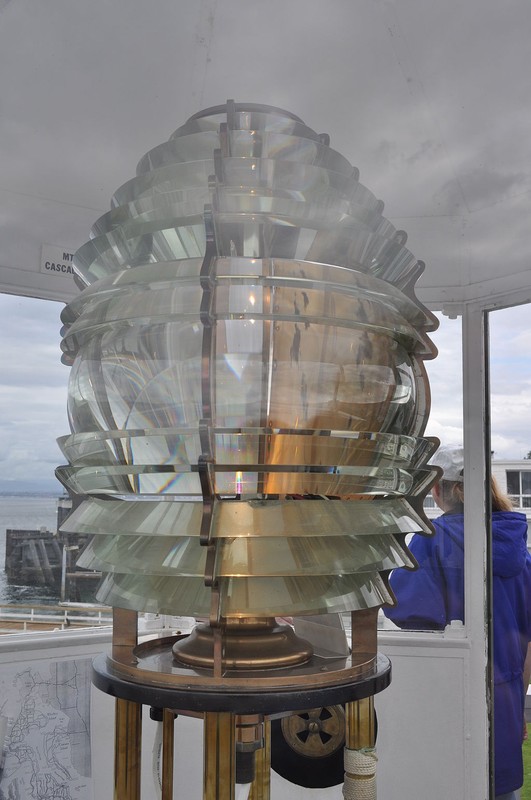 Backstory and Context
As the late 19th century saw increased shipping traffic in the Puget Sound, the need for navigational aids increased. As a result, the lighthouse was built in 1906, a few years after Congress appropriated money for its construction. Initially, the station had a windmill that was used to pump water from well but it was demolished in 1934. The original lens, which rotated every ten seconds and was operated by a clockwork mechanism, was replaced in 1927 by the Fresnel lens. This lens was manufactured in 1852. Although electricity arrived at the lighthouse in 1927, the light (and fog horn) wasn't automated until 1979. The Coast Guard had plans to demolish the lighthouse in the 1960s and replace it with a new light, but the community rejected this idea, thereby saving the historic lighthouse. Ownership of the entire property was transferred to the city in 2001 for the purpose of creating the park.
Sources
"Lighthouse Park." City of Mukilteo. Accessed March 9, 2020. https://mukilteowa.gov/departments/recreation/parks-open-spaces-trails/lighthouse-park/?cn-reloaded=1.
"Mukilteo Lighthouse." Lighthouse Friends. Accessed March 9, 2020. https://www.lighthousefriends.com/light.asp?ID=32.
Williamson, R.J. "Mukilteo Light Station." National Park Service - National Register of Historic Places Nomination Form. October 21, 1977. https://npgallery.nps.gov/GetAsset/a0b97ff3-761d-4cc1-bf6c-1c8d50d36dd9.
Image Sources
Joe Mabel, via Wikimedia Commons: https://commons.wikimedia.org/wiki/Category:Mukilteo_Lighthouse

Additional Information