Topeka Tornado Victims Memorial
Introduction
Ever since the Wizard of Oz, the connection between tornados and Kansas became a fairly common stereotype. On June 8th, 1966, a massive F5 tornado struck Topeka, Kansas, and showed the entire nation the true destructive power of these deadly storms. At the time, the destruction of this tornado cost $250 million (equivalent to about $727 million in 2015), making it one of costliest tornados in U.S. history. Furthermore, around 820 homes were destroyed and 3,000 were damaged, mostly in residential areas on the east side of town. The destruction also included 250 businesses (with 2,390 damaged). In the aftermath of the tornado, 17 people had died. The tornado began developing at 6:55 p.m. on June 8th, traveled about 22 miles in a northeast direction, and then dissipated at about 7:29 p.m. Reports stated that if the tornado had struck during school and work hours, the death toll would be close to 5,000. The tornado also upgraded rules and regulations, and the effective governmental and media response to the tornado served as a model for other cities.
Images
Topeka Tornado Victims Memorial
View of the tornado as it approached Topeka
Destruction near downtown Topeka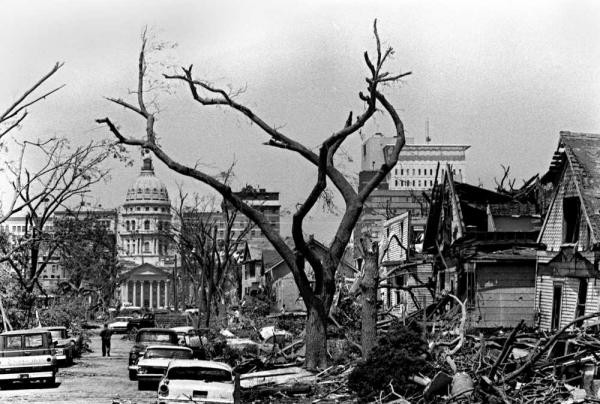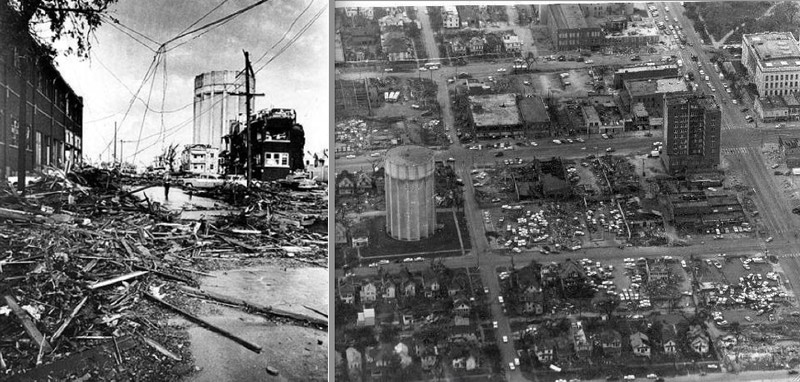 View of the tornado developing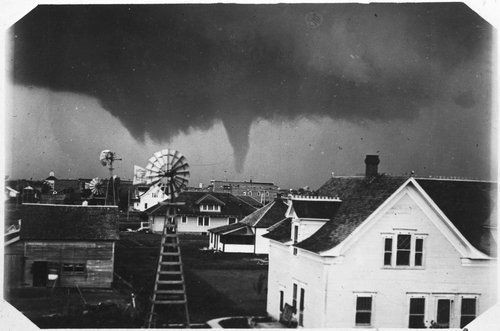 Backstory and Context
The June 8th, 1966 Tornado
The June 8th, 1966 tornado was part of a massive cell that produced upwards of 57 tornadoes with a Fujita rating between June 2nd and June 12th. Many of these tornados were F2, F1, and F0, and 5 confirmed tornadoes were not given a Fujita rating. Among all the tornadoes and aside from the Topeka tornado, there was only one other death in Cook County, Illinois. The Topeka tornado was also the only F5, and it endures as one of the most infamous tornados in U.S. history due to its intensity, damage, and death toll.
According to reports, the tornado started developing around 6:55 p.m., and it touched down about 8 miles west of Topeka. At the time, the National Weather Service at the Topeka forecast office was using a surplus military radar donated by the U.S. Government, and though many considered the radar to be state-of-the-art, it still couldn't detect tornado activity like the Doppler radars used today. Therefore, reports of the oncoming tornado were considerably late.
The 1/2-mile-wide tornado had made its way into the southeast part of town, passing over the famed tornado-blocker, Burnett's Mound. It was WIBW-TV reporter Bill Kurtis who famously advised Topeka viewers in a calm and stern manner, "for God's sake. Take cover!"
WREN Radio station reporter, Rick Douglass, also tried reporting on the storm while taking cover. He was picked up by the tornado and thrown about a block away with the clothes ripped from his body. Amazingly, Douglass survived but said he could smell a mix of "blood, guts, wood, and metal" for a few weeks after the incident.
In the end, the tornado held a northeast pace at about 35mph and it traveled about 22 miles across the heart of the city. The worst damaged occurred along an eight block section in downtown Topeka; every building on the Washington University campus was either destroyed or severely damaged, and even the State Capitol building suffered significant damage.
About 26 minutes after it touched down, the tornado dissipated east of Billard Airport on the city's northeast side. Among ruined homes and businesses, hundreds were left homeless and in some parts of the city, electricity and water were out for weeks. Topeka Mayor Chuck Wright also issued a decree that looters would be shot on site, though no looting ever occurred.
Bill Kurtis, who called for citizens to take cover, is also regarded with having saved thousands of lives. Improved safety rules and regulations also came out of the Topeka tornado. Before the tornado, people were advised to go to the basement and open windows. After the tornado, damage reports showed this to be incorrect, and people should head to a basement, go under a table, or get behind something sturdy to protect from blowing and falling debris.1
Inscription on the Memorial Marker
This memorial is given as a tribute for those who worked unselfishly in restoring our city to normalcy, and as a memorial to those who lost their lives in the tornado of June 8, 1966.
Lisle Grauer • Mary Beasley
Craig Beymer • Calvin Wolfe
John Wells • John Scheibe
W. R. Crouch • Gereford Lee
John D. Culver • Sterling Taylor
Edward J. Lyons • Hattie Anderson
Mrs. Calvin Wolfe • George A. Sklenicka
Oliver J. Milton • Mrs. Bertha Whitney
Donated to the citizens of this city
by Mr. and Mrs. Dana L. Hummer in memory
of their daughter Nancy 1947-19662
Sources
1.) "The 1966 Topeka Tornado." National Weather Service. Accessed July 11, 2015. http://www.weather.gov/top/1966TopekaTornado 2.) "Topeka Tornado Victims - in Memory." The Historical Marker Database. Accessed July 11, 2015. http://www.hmdb.org/marker.asp?marker=47334&Result=1.
Additional Information