George Washington's Grist Mill
Introduction
The land for George Washington's Grist Mill was purchased in 1774, and construction completed in 1776. The Mill has belonged to Powell Hough, John Strickler, and Jacob Strawn. Strawn's heirs proceeded to sell it to George Anderson, who repaired it in 1859, and later sold it to Samuel Smith. The Mill today belongs to Perryopolis Parks and Recreation Authority.
Images
George Washington's Grist Mill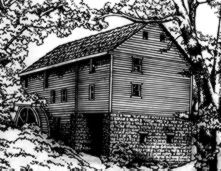 Backstory and Context
By 1769, George Washington owned 1600 acres of land where Perryopolis now lies. His Grist Mill is located on this 1600 acres. Construction for the mill began in 1774, under the direction of Gilbert Simpson. Due to trouble with the Native Americans and the beginning of the Revolutionary War, the Mill was not completed until the fall of 1776.

In the fall 1779, Washington leased the Mill along with 150 acres of land to Colonel Israel Shreve, a hero of the Revolutionary War, for a term of five years. Washington died in 1799, without having conveyed the tracts under the Articles of Agreement to Colonel Shreve, who also died in 1799.