Livingston County Historical Society and Museum
Introduction
The Livingston County Historical Museum is located in a historic cobblestone schoolhouse that was constructed in 1838. The museum offers a variety of exhibits that preserve and interpret the history of the 17 communities of Livingston County through artifacts. In addition to galleries and archives, the museum and historical society sponsors programs for children resources for teachers, lectures for community members, and special programming for the entire community. The site also features the Willard Hose House, which was built the 1890s near the railroad and used by the firefighters to store independent fire carts, and the "Big Tree," the remaining part of a large oak tree that was killed in an 1857 flood. The schoolhouse is part of the Geneseo National Historic Landmark District.
Images
The Livingston County Historical Museum is located in this former 1838 cobblestone schoolhouse.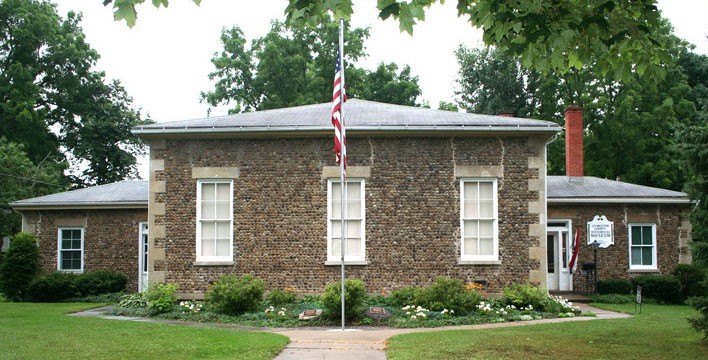 The first gallery of the museum offers a chronological overview of the history of the region.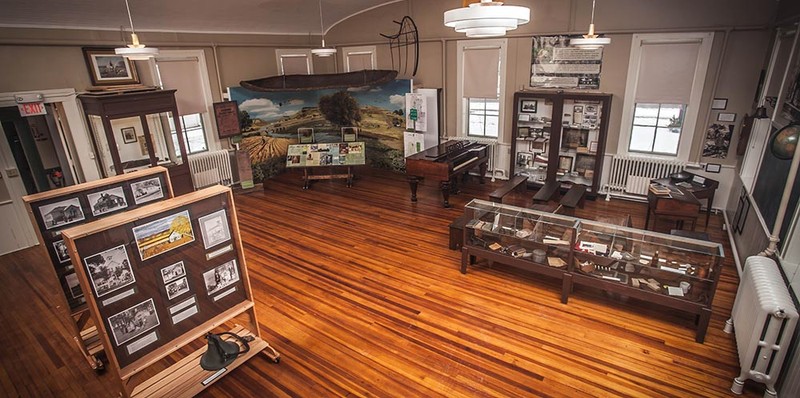 Backstory and Context
The museum is located on property once owned by brothers James and William Wadsworth, who donated it to the town in 1820 so that it could be used for educational purposes. The 1832 schoolhouse was the second one at this location. It operated until 1932 when it became the museum.

Interestingly, the Wadsworth property was the location of the negotiations between the Seneca Indians and the Holland Land Company in 1797. The result was the Treaty of the Big Tree, which granted the company 3.5 million acres of land for settlement and created reservations for the Seneca. The parties adopted the name "big tree" after the area, which was heavily forested at the time. The oak tree, which was alive during the negotiations, grew to a big size and earned the same nickname.
Sources
"About the Museum." Livingston County Historical Society and Museum. Accessed July 5, 2015. http://www.livingstoncountyhistoricalsociety.com/our-buildings.
Additional Information