Whaley House Historical Museum
Introduction
This is the house of the Victorian era in Flint, Michigan . Here you can take a tour of what it was like during the Gilded Age. This house was first constructed it has seen the City of Flint transition from a small, frontier lumbering town to one of the world's leading industrial centers. The address and phone number will take you right to the house so you too can see what he accomplished along with the town in such a prosperous age.
Images
Whaley House Historical Museum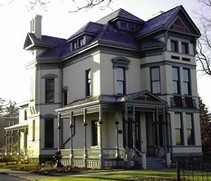 Backstory and Context
In 1840 a boy named Robert Jeremiah Whaley was born. He later moved to Flint, Michigan in 1885. Where he builds his house and his legacy would live on. Well after his death, his family and house would continue to change history. Even today, his house stands a testament to remind others of the history of the time he lived in. He became a very prominent executive and was a very influential man within the community that he served.
He served as the president of the Citizens Bank for over forty years of his life, one of his greatest achievements. Was an investment he made in 1886. His bank gave a 2,000 to William C. Durant and J. Dallas Dort, who currently at the time owned Flint Road Cart Company. Which in 1908 became the multi-billion dollar company known today as General Motors Company. However, this was not the only influential business to be run out of this household. In the early 1850s when Robert meet his wife Marry, her father moved with her into the house. Where he operates one of the biggest lumber in the town adding to influence, he had while making the towns economy grow.
Even when tragedy struck the family the couple's only son died at the age of 10 after contracting diphtheria. His father built a hospital Whaley Children's Center. Where families and children with all sorts of medical ailments would be treated. Their Mission is to serve troubled youth while teaching them how to succeed as individuals, by providing continuity of care across all programs and supporting them with the resources so they can reach their potential. The couple influence to the community around continued even after their death. In their will, Mary wanted the McFarlan Home for Women to establish, stated in her will. In addition, the couple donated a large amount of acres to help create state parks. Even some of those acres went into creating the Five Sisters Chapel in St. Paul's Episcopal Church. This family and house continued to serve the community well after their death and that's the way wanted it.
Sources
http://en.wikipedia.org/wiki/Whaley_Children's_Center http://www.flintandgenesee.org/experience-gilded-age-whaley-historical-house-museum/ http://www.gfn.org/whaley/index.html
Additional Information