Pioneer Mother Memorial
Introduction
Located on the southwest quadrant of the stunning Kansas State Capitol's grounds, the Pioneer Women Memorial pays an essential tribute to an often overlooked facet of westward expansion in the United States: the woman, mother, and pioneer. Women pioneers were central to the success of westward settlement, and without these courageous women, many who held several roles in both traveling caravans and small settlements, newfound communities west of the Mississippi would have encountered eventual destruction and abandonment. The sculpture on the capitol grounds features the image of a pioneer woman, who is said to represent the artistic embodiment of all Kansas pioneer women. Aside her on the marble pedestal includes a dog by one of her feet, a pre-teen son by the other foot, a baby cradled in her arm, and a large rifle sitting across her lap. According to the statue's inscription, the symbolic pioneer mother is too well-fed to be a pioneer woman, but it nonetheless represents the hardships, struggles, and ideals these women met settling into the Kansas territory. Sculpted by acclaimed Topeka resident, Robert Merrill Gage, the Pioneer Women Memorial was dedicated on May 11, 1937, the Mother's Day of that year.
Images
Front portrait of the statue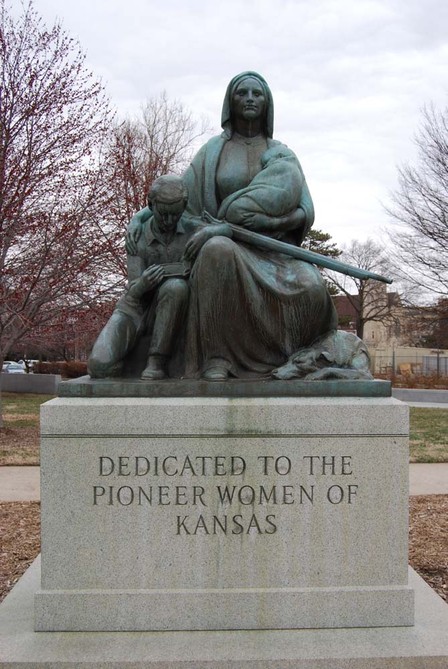 Pioneer Mother Memorial with the State Capitol in the background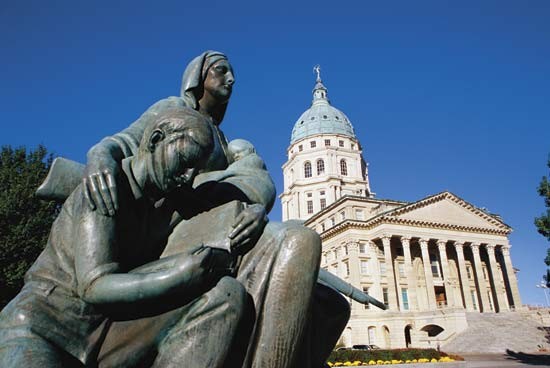 Independence on the Plains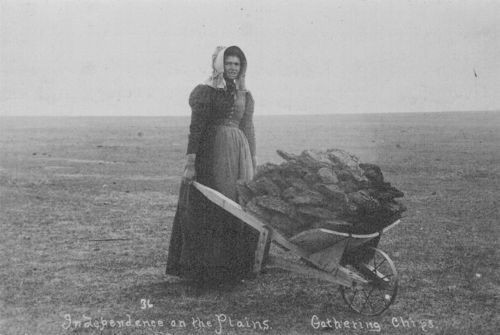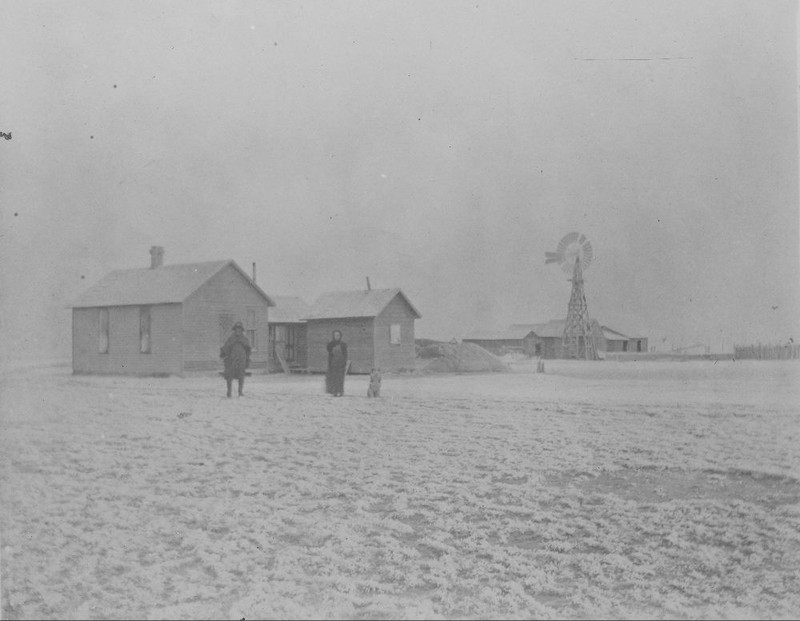 Backstory and Context
History of Pioneer Women (Memorial Significance)
Aside from the statue's innate beauty and inspirational significance, the Pioneer Women Memorial holds a profound meaning that covers the pioneering mother over the course of the 19th century. 
After the Louisiana Purchase, and especially after the Kansas-Nebraska Act of 1854, many men and their families began settling in the area. According to "Stories From Greenwood Pioneer Women" for the Kansas City Star in 1916, there were very few single men first settling Kansas, and similar to the need for oxen and the prairie schooners, these early settlers wouldn't have been able to establish themselves in the area without the help of women.
For example, a drought ravished the area in 1860 and nearly caused starvation in thousands of settlers throughout the state. One story concerned the Willis family who settled in Greenwood County near Wichita. After building a modest farmhouse outside of Eureka, the family found themselves without food. It was Mrs. Willis who brought pumpkin and melon seeds from Illinois, which yielded the only crop in 1860 and saved her family. 
In addition to starvation, pioneer families fought against prairie fires, stereotypes regarding attacking Native American tribes, and sickness. In building a suitable farm, women worked side-by-side with their mates to turn the soil, plant the crops, the engage in other chores that were traditionally only suitable for men. 
While working the earth, the women also cooked, cleaned, made clothes, helped build and maintain the house, gathered water, dealt with rodents and marauding animals, raised and nursed children, canned fruits and vegetables, washed laundry on a rub board, ironed with a heavy cast iron, and conducted many, many other tasks. Lastly, women also became the principal caregivers, treated the sick, set broken bones, amputated limbs, and delivered babies.1 
In essence, many single men couldn't have survived the harsh life of a pioneer without a wife, and thus the Pioneer Women Memorial pays tribute to this essential role of the woman in the establishment of Kansas. 
History of the Memorial
The Pioneer Women Memorial was conceived and donated by the Kansas Pioneer Women's Association. This association consisted of women who came to Kansas as pioneers or as daughters of early settlers. The project began in 1927 with a massive fundraising drive, and anyone who donated a dollar could receive membership. 
Kansas Pioneer Women's Memorial Association first-vice-chair Lilla Day Monroe initially pursued a Kansas pioneer mother monument out of a belief in women's equality. But that did not mean that the association wanted a sculpture that depicted a woman acting like a man. The male-dominated memorial commission selected Bryant Baker's design featuring a sunbonneted pioneer woman holding a scythe. That design closely resembled Baker's famous Pioneer Woman for Ponca City, Oklahoma. But Kansans did not want their monument to remind viewers that Kansas settler women needed to help their husbands with field labor. They urged the sculptor to replace the scythe with a gun. Baker apparently refused. By 1935, Baker's model was on display in the capitol rotunda, but the memorial association awarded a $10,000 contract for the monument to famed American artist and former Kansan Robert Merrill Gage, instead.
In the 1920s and 1930s, Americans often imagined pioneer women holding rifles. Twenty-five public sculptures of pioneer women unaccompanied by men were put up in the US during those decades. Fifteen of those 25 include rifles, including Merrill Gage's 1920 Daughters of Old Westport memorial in the Kansas City area. But none of those pioneer women appear prepared to fire their weapons, even in self-defense. Instead, artists included rifles to emphasize these women's need for protection in the supposedly untamed West.
A few protested Gage's depiction of a "pioneer lady holding a gun," claiming that their mothers never hunted for game or fought Indians.2 But the Topeka Capital's editors defended Gage, insisting that pioneer women had to be ready to defend her home if necessary in their husbands' absence. They believed that nineteenth-century women were supposed to be the moral defenders of the home. While pioneer men struck boldly into the savage wilderness to build new homes and communities, pioneer women were supposed to sit within those rough cabins protecting their civility.
The Kansas Pioneer Women's Association constructed the monument with the help of Merrell Gage, who also built the seated Lincoln statue on the Kansas Capitol grounds. It was dedicated on Mother's Day on May 11th, 1937.3
Sources
1) Walters, Daisy H. "Stories From Greenwood Pioneer Women." Accessed July 5, 2015. http://www.preparingtosurvive.com/greenwood.html.
2) "Merrell Gage Papers, 1911-1982." Archives of American Art, Smithsonian Institution, Washington, DC.
3) "Kansas State Capitol - Online tour - Pioneer Women Memorial." Kansas Historical Society. Accessed July 5, 2015. http://kshs.org/p/kansas-state-capitol-online-tour-pioneer-women-s-memorial/16579.
Prescott, Cynthia Culver. Pioneer Mother Monuments: Constructing Cultural Memory. University of Oklahoma Press, 2019.
Additional Information