The First Church of Christ
Introduction
Designed by architect and master builder Judah Woodruff in 1771, the First Church of Christ still meets today. It is best known for its role in the underground railroad and for housing some of the escaped Mendi following their 1841 Supreme Court trial. The congregation was also fundamental in raising funds to send the Mendi back to present-day Sierra Leone.
Images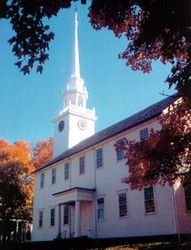 Backstory and Context
In 1839, 53 kidnapped Mendi Africans rebelled against their Spanish slave-trader captures aboard the Amistad. The surviving Africans would go on to win their freedom in the United States' Supreme Court. While they raised funds to return to present-day Sierra Leone, they found refuge in the town of Farmington, Connecticut. The First Church of Christ congregation welcomed the freed Africans, and were also instrumental in the underground railroad.
The congregation at First Church of Christ in Farmington dates back to 1652, though their present building was not constructed until 1771. Their first pastor, Roger Newton, was the son-in-law of Thomas Hooker, the founder of Hartford. Other important names are associated with the Church, such as the later pastor Noah Porter, father to Sarah Porter of Miss Porter's School and to Noah Porter Jr, who would be president of Yale University from 1871-1886.
Sources
http://www.nps.gov/nr/travel/amistad/fir.htm
The Amistad Crew, First Church 1652. Accessed October 15th 2020. https://www.firstchurch1652.org/amistad-tours-with-farmington-historical-society.
Our Timeline and History, First Church 1652. Accessed October 15th 2020. https://www.firstchurch1652.org/timeline-and-history.
Additional Information