Frederick Ayer Mansion
Introduction
A National Historical Landmark, the Frederick Ayer Mansion was constructed from 1899-1902 for businessman and art collector Frederick Ayer and is the only surviving residence by American artist and designer Louis Comfort Tiffany. Frederick Ayer made his fortune in Boston through patent medicines and textiles. A pioneer in the interior design profession, Tiffany revolutionized the use of stained glass, and the "Tiffany-designed stone and glass mosaics, graceful metalwork, Favrile glass vases, custom furniture, intricate plaster work, elaborate stained glass windows, and unexpected architectural flourishes all work together to create a cohesive masterpiece" ("Boston's Tiffany Treasure").
Images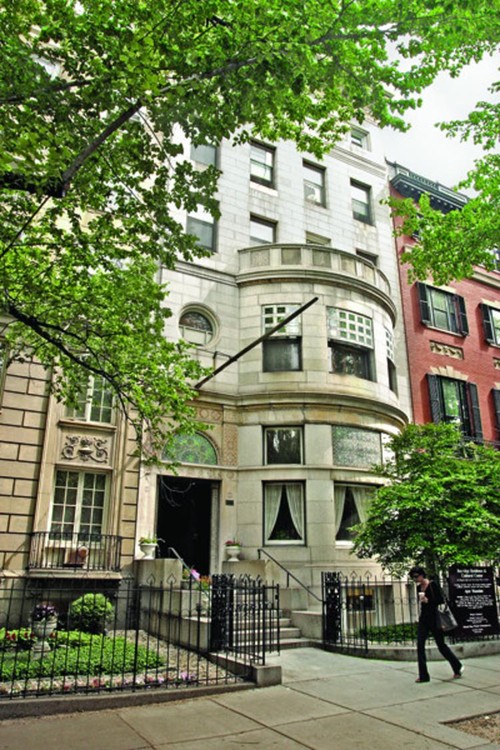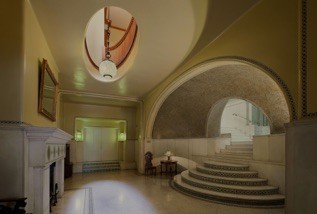 Mosaic design at Ayer Mansion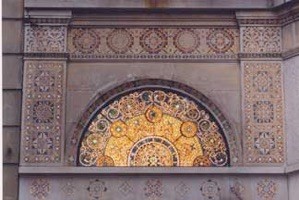 Mosaic Center Hall at Ayer Mansion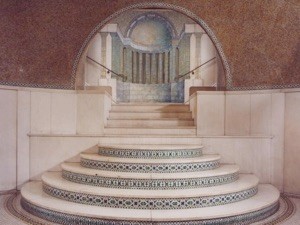 Backstory and Context
The Ayer Mansion includes exterior and interior mosaics by Tiffany, a rarity as he rarely did exterior design, and serves as the only existing example of his exterior work. "At the Ayer Mansion, austere architectural forms and smooth surfaces provide a foil for the rich Near Eastern patterns and color combinations and for his experimental glass. The street elevation of the light-colored granite-faced house, with its smooth, flat surfaces ornamented by bands of mosaic panels, introduced a modernizing aesthetic to Boston's Back Bay" ("History").
The home's entrance is constructed of mosaic and stained glass, a noted Tiffany design element, including white marble wainscoting, mosaic star risers, and iridescent glass mosaics. Now, the mansion is home to the Bayridge Residence and Cultural Center, "a nurturing and inspiring residence for single women attending undergraduate and graduate programs in the Boston area" ("History"). Many of the original details of the home have been left intact and the mansion is available for public tours typically one Saturday and one Wednesday a month.
Sources
Maxwell, Rollins. "The Interiors of Louis Comfort Tiffany." Social Register Observer (Summer 1999): 42–48.

Additional Information