Cecelia Memorial Presbyterian Church
Introduction
The first Christian church organized in Bowling Green and is also one of the oldest churches in Warren County, KY.
Images
Cecelia Memorial Presbyterian Church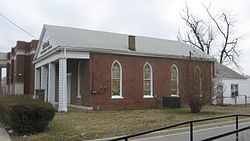 Backstory and Context
*From Cecelia Memorial Presbyterian Church website:
"Cecelia Memorial Presbyterian Church formerly Cumberland Presbyterian, had it's beginning around 1868. It was organized in the home of Dave and Cecelia Lillard. In 1926 the church united with The Presbyterian Church, and changed it's name to honor it's patroness, Cecelia Lillard. Mrs. Lillard had been born a slave, in Virginia, she and her husband, Dave were brought to Bowling Green by their owners, Dr. and Mrs. Thomas Briggs Wright. Later, after receiving their freedom, they bought a small home, where the church was formed. Mrs Lillard, or Mother Cecelia, as she was affectionately known, was a very blessed lady, and lived to be 107 years old. We are thankful for every sacrifice she and her friends and family made, that allow us now, to worship with our little church family. We may be small in number, but you won't find a church with a bigger heart."
The original church was built in 1845 and sold to the Cumberland Presbyterians in 1892. The Cecilia Presbyterian church, however, still meets at the same church building today.
Additional Information