Huntington West Virginia World War I Memorial Arch
Introduction
The 42-foot tall arch was built by the Cabell County War Memorial Association during the 1920s to honor the men of Cabell County who served in World War I. The arch contains a plaque listing the names of each man from the county who gave his life in the war, 91 in total. The first cornerstone was laid on November 11, 1924, and the completed arch was dedicated on November 11, 1929. In addition to this memorial, the county planted 91 trees in honor of the men from Cabell County who lost their lives serving in the armed forces during the war.
Images
The Memorial Arch is in a small park that hosts patriotic celebrations as well as weddings and baseball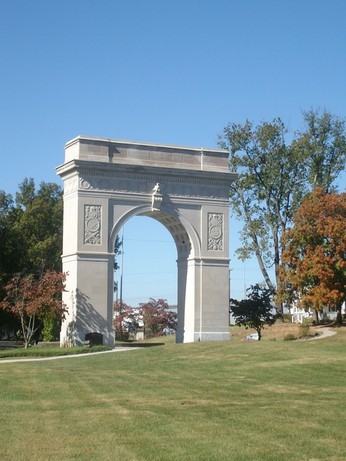 Top: Draft No. 651, from Huntington before leaving for Camp Sherman, Ohio, June 21, 1918; Bottom: Huntington men before leaving for Camp Custer, Michigan, August 5, 1918, Huntington. Photo courtesy of the West Virginia State Archives.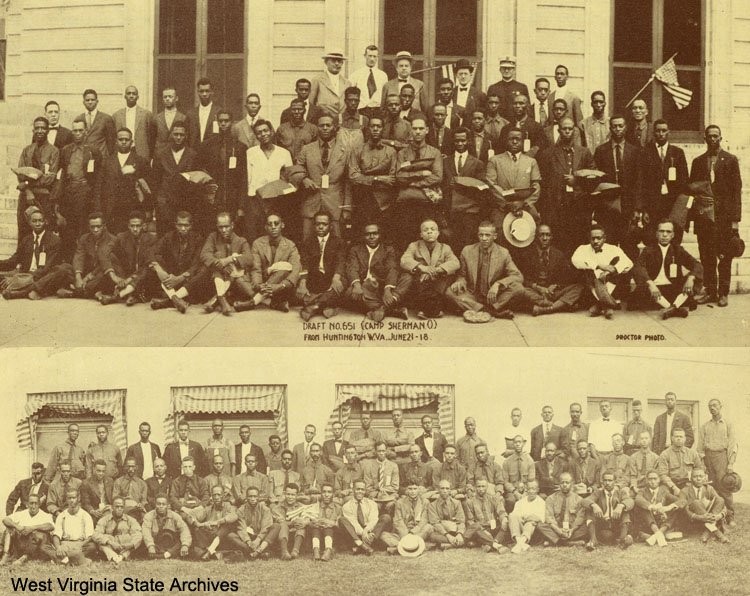 Officers relaxing in barracks in France, circa 1919. From left to right: Capt. Karl C. Pritchard of Huntington, Capt. Cox, Lt. Geistly, Capt. Lalubie, an unnamed French Officer and Lt. Denton. Karl C. Pritchard Collection, West Virginia State Archive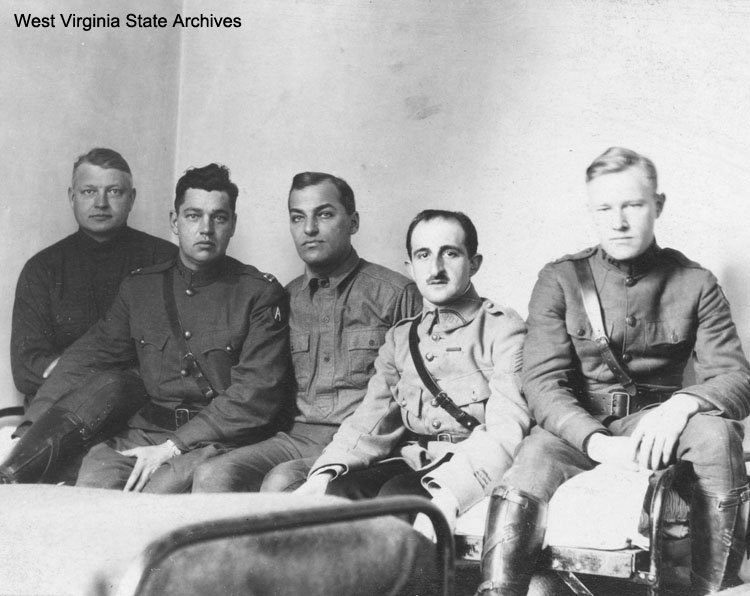 Herald-Dispatch article from May 17, 1918. Lists names of African American Huntingtonians serving in World War I and young men recently sent off for basic training.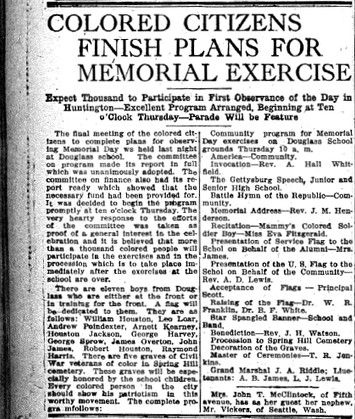 1929 Memorial Arch celebration. Photo Courtesy of West Virginia State Archives.
Crews worked to restore and clean the Memorial Arch in November 2020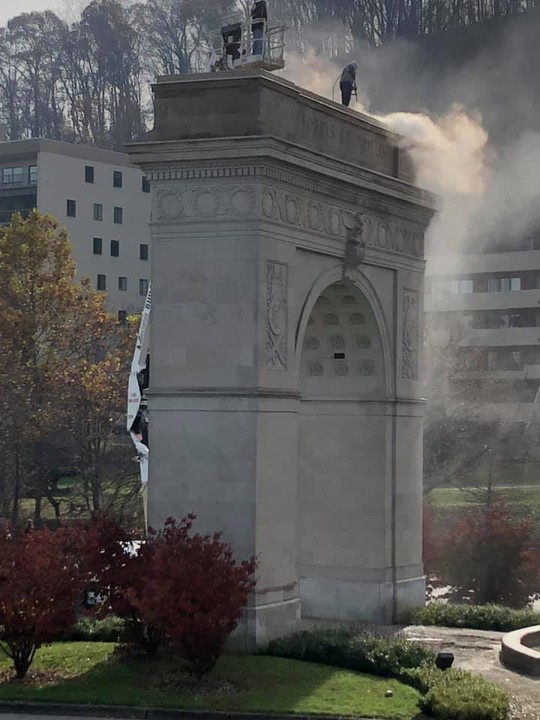 Backstory and Context
Huntington lawyer George S. Wallace, a veteran of the Spanish American War and World War I, initiated the movement to create a memorial honoring fallen soldiers of World War I from Cabell County shortly after the armistice that ended the war. The Cabell County War Memorial Association was formed in the early 1920s, and dedicated ten years to raising the $40,000 necessary to construct the monument. The first corner stone was laid on November 11, 1924, Armistice Day. It took almost eight years of intermittent construction as funding was available to complete the arch. On November 11, 1929, Armistice Day, city leaders dedicated the arch with a ceremony attended by over a thousand people according to a Huntington Advertiser article from June 09, 1929. Many state and local politicians, veterans, and residents attended the ceremony. In 1981, this memorial was listed in the National Register of Historic Places. In 2000 a time capsule was buried at the Arch not to be opened until 2050. 
West Virginia mustered roughly 58,000 soldiers to fight in World War I, and an estimated 5,000 died in service from either the influenza epidemic or in battle. Many West Virginia soldiers are buried in France, and Arlington National Cemetery. No Medals of Honor were awarded to West Virginia Soldiers; however, several won the French Croix de Guerre. West Virginia has a strong link to war service ranging from World War I & II, Korea, and Vietnam. "World War I memorials may be seen at Welch, Logan, Martinsburg, and at the West Virginia Veterans Memorial in Charleston. The War Memorial in Kimball was the first building in the country erected to honor African-Americans who fought in World War I." (Leatherwood) 
Of the 58,000 West Virginians that served in World War I, roughly 11,000 African American men fought while African American women served as nurses, telephone operators or clerks. Historian Jenifer Keene notes that "over 96 percent of the 367,710 Blacks who served during the war were conscripted. African Americans formed 13 percent of the wartime army, even though they only represented 10 percent of the civilian population." Whether or conscripted or volunteered, West Virginians honorably served in World War I. 
Sources
Keene, Jenifer D. World War I. Westport: CT. Greenwood Publishing Company, 2006. 
Leatherwood, Jeffrey M. "World War I." e-WV: The West Virginia Encyclopedia. 28 September 2012. Web. 13 April 2015.  
Image Sources
Photograph by David Trowbridge

Additional Information