William Forst House
Introduction
The William Forst House, also known as the Clark House and the First-Clark House, is a historic house located in the Russellville Historic District of Russellville, Kentucky. Built in 1820, it made history between November 18 and 20, 1861, as the site where the Confederate government of Kentucky was formed. It has been listed on the National Register of Historic Places since July 19, 1973. To this very day the Forst House still stands in the historic district of Russellville, Kentucky.
Images
The William Forst House today.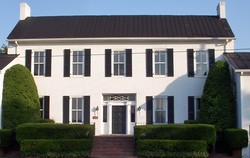 Backstory and Context
Built in 1820 by William First, having later changed his name from First to Forst, was an immigrant from England. He built the home to showcase his expertise in mill work and mantels. At first only having five rooms and a twenty foot long hallway, the house, in later years, would receive multiple upgrades.

Between November 18-20, 1861 the house made history as the site of the Confederate Government of Kentucky. Its 116 delegates met from 65 Kentucky counties and voted to secede from the Union, although Frankfort was still the state capital they chose to stay with the Union. George W. Johnson, before leaving the house, was elected as the Confederate governor of Kentucky.

The home has seen many changes over the years. In 1890 the interior staircase was replaced. The white columnn, servants quarters, and original kitchen are now long gone. The front porch was replaced with a double brick stair place. Under the ownership of Wister C. Clark the house was used a a funeral home from 1922-1942. His widow turned the ballroom into apartments in the 1960s and the bottom floor was used for her son's law practice.

Sources
"National Register Information System". National Register of Historic Places. National Park Service. 2008-04-15. Kleber p.222 Clark Sec.7 p.1, Cronan Sec.8 p.13 Clark Sec.7 p.1 Cronan Sec.8 p.13 Cronan Sec.8,pp.6, 7 Clark Sec.7 p.1, Sec. 8, p.1 Clark Sec.7 p. 1 Clark, J. Granville (1973). William Forst House NRHP Form. Russellville, Kentucky. Cronan, Mary (1976). Russellville Historic District NRHP Form. Russellville, Kentucky: Kentucky Heritage Council. Kleber, John E. (1992). The Kentucky Encyclopedia. University Press of Kentucky. ISBN 0-8131-1772-0.
Additional Information