Kennedy Museum of Art
Introduction
The Kennedy Museum of Art is located in historic Lin Hall at The Ridges on the Ohio University campus. Named in honor of Edwin L. and Ruth E. Kennedy, the museum features significant collections including important southwest Native American textiles and jewelry and a renowned contemporary print collection. This world-class institution brings to the university and the region a wide range of permanent collection and traveling exhibitions, educational programming, and special tours. The Kennedy Museum is an integral part of the educational, research, and public service missions of Ohio University.
Images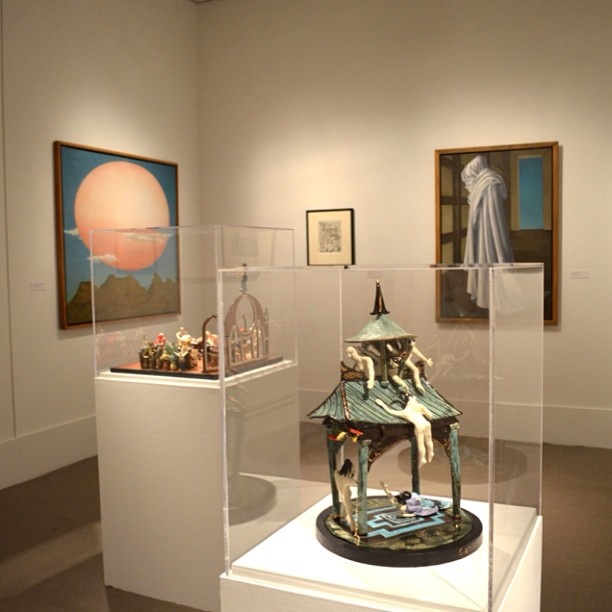 Backstory and Context
The Kennedy Museum of Art located in Lin Hall was once the Athens Mental Health Center. The mental health center was opened on January 9, 1874 on land that was purchased from the Coate's farm. The Superintendent, assistant physicians, steward, and a generation reception room were housed in the administrative building. Two wings were added to the building for patients. The second floor contained apartments of the medical superintendent while the third and fourth floors were used for administrative offices. The mental health center was closed in 1993, and the grounds were later purchased by Ohio University.
The Kennedy Museum is named after Edwin Kennedy and Ruth Zimmerman Kennedy. The two were great supporters of Ohio University. Edwin, a native of Marion, Ohio attended school at Ohio University, Ohio State University, and Harvard Business School. Ruth Kennedy graduated from Ohio University in 1930.
Kennedy joined the Lehman Brothers Investment Firm in 1941 and later became a senior partner. From 1959 to 1975, he worked on the Board of Trustees at Ohio University. He served on the Ohio University Fund (Ohio University Foundation) and National Alumni Association Board and was Trustee of Hiram College in Hiram, Ohio. Ruth Kennedy was a member of the Greater New York Alumni Chapter, American Association of University Women, American Red Cross, University Club, and Women's Republican Club. Both Edwin and Ruth Kennedy were awarded the Certificate of Merit Award at Ohio University in 1963.
Kennedy began collecting artwork in 1930. His findings turned into a world-renowned collection. Edwin and Ruth Kennedy donated their Southwest Native American Collection to Ohio University so it could be displayed in the museum. The John C. Baker Fund was established by the Kennedys. This fund provided the Edwin L. and Ruth E. Kennedy Distinguished Professor Award and the Baker Research Award. They also endowed another program called the Kennedy Lecture Series.
Sources
"Lin Hall - Kennedy Museum." Ohio University. Web. 1 July 2015.
Additional Information