The Athens State Hospital (1874 to 1993)
Introduction
The Athens State Hospital, formerly called the Athens Lunatic Asylum, was a mental hospital operated in Athens, Ohio from 1874 until 1993. During its operation, the hospital provided services to a variety of patients including Civil War veterans, children, and violent criminals suffering from various mental disabilities. Although not a self-sustaining facility, for many years the hospital had livestock, farm fields and gardens, an orchard, greenhouses, a dairy, a physical plant to generate steam heat, and even a carriage shop. Today, the building is part of Ohio University and houses the Kennedy Museum of Art, an auditorium, and many offices, classrooms, and storage facilities.
Images
Photo of the hospital and staff in 1873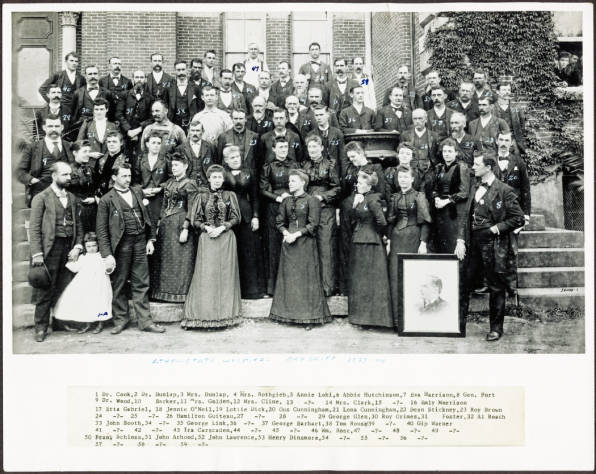 Backstory and Context
Also known as The Ridges, the Athens State Hospital was an asylum for the mentally ill in Athens, Ohio. Construction on the building began in 1867-68 and in 1874 the asylum officially opened its doors to patients. The original campus structures still remain, now owned and operated by Ohio University. Levi T. Scofield, an architect from Cleveland, Ohio designed the facility. The hospital could house up to five hundred and seventy-two patients, which was twice the recommended capacity. This over-population would later lead to conflicts between patients. On January 9, 1874, the asylum was officially opened. After two years of operation, what was known as the Athens Asylum was renamed the Athens Hospital for the Insane. Throughout its history, the facility went through several name changes.
The hospital operated for a century on the hill overlooking the Hocking River and is surrounded by forest where many patients escaped to when they sought to leave the facility. 
Many of the hospital's first patients were Civil War veterans suffering from post-traumatic stress disorder. There was also a number of women admitted to the asylum who had difficulties raising the large families typical of farm life. Though the original goal of the Asylum was to have the patients released, most patients remained at the facility until their deaths. Many of them were buried in the asylum's cemetery. Some of the unfortunate patients died under circumstances that brought such as Margaret Schilling, a woman who became locked in the building's attic and perished in 1978.
The original setup of the hospital grounds included a park-like setting with ponds, gardens, and fountains. Doctors thought that the beautiful setting might help patients recover from their mental health issues. Patients at the asylum were encouraged to work on the grounds. They could work in the gardens, greenhouse, or orchards, tend to livestock, or help in the asylum's carriage shop.
In 1993, the asylum closed as a mental hospital. The grounds were then purchased by Ohio University and renamed The Ridges. Although the hospital is no longer in operation, it still attracts the interest of many who believe the grounds are haunted. The hospital has also been listed on the National Register of Historic Places.
Sources
"Athens Asylum." Ohio History Central. http://www.ohiohistorycentral.org/w/Athens_Asylum (Accessed February 12, 2018)
Kirkbridge, Thomas. "Kirkbridge Buidlings." Kirkbridge Builds. http://www.kirkbridebuildings.com/ (Accessed February 12, 2018)
Additional Information