Mitchell Monument and Mitchell Recreation Area
Introduction
The Mitchell monument commemorates the only location in the United States where Americans were killed on American soil during World War II as a direct result of enemy attack. The unfortunate incident occurred on May 4, 1945, when Elsie, the pregnant wife of Reverend Archie Mitchell, and five Sunday school children encountered and accidentally set off an undetonated balloon bomb sent by the Japanese Army. This bomb was the first intercontinental ballistic weapon in history to be detonated. A stone with a plaque attached, located on the site, displays the names of Elsie and the children.
Images
The plaque commemorating Elsie and the six children who died. The actual spot of the bomb blast is fenced off.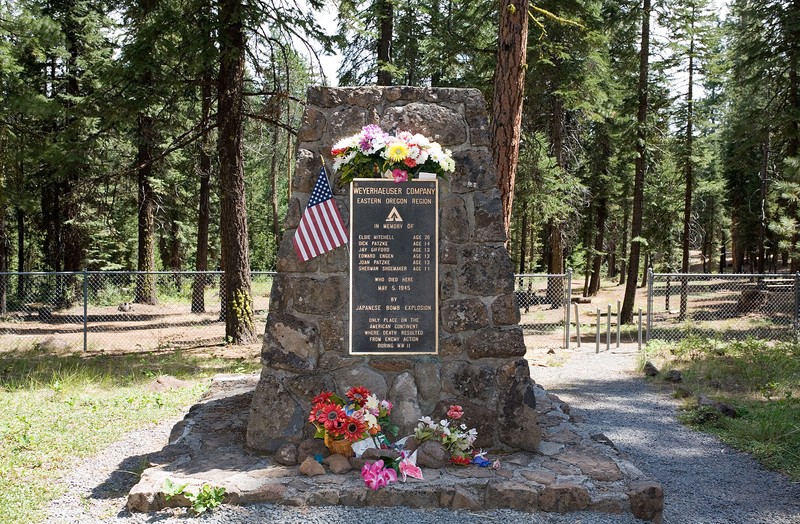 One of the trees still shows scars from the explosion.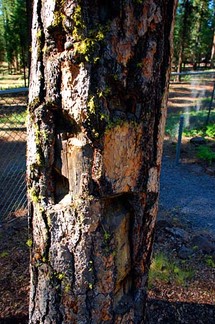 Diagram of a balloon bomb.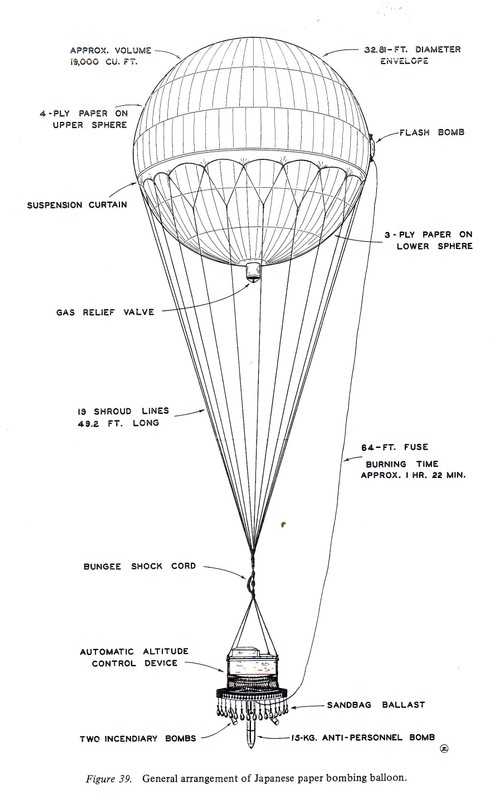 Backstory and Context
The unfortunate incident occurred on May 4, 1945, when Reverend Archie Mitchell, his pregnant wife, and five Sunday school children set out to enjoy a day of picnicking and fishing. The group ended up at a spot along Leonard Creek in present day Fremont-Winema National Forests. Archie's wife, Elsie, and the children explored the nearby area and tragically found an unexploded Japanese balloon bomb. They called for Archie to come look at it and moments later the bomb exploded, instantly killing Elsie and the children. This bomb was the first intercontinental ballistic weapon used in history, a fact both interesting and grim.
The Japanese are believed to have sent up to 1,000 balloon bombs towards the United States during World War II, via travel along the jet stream. Two were found as far as Michigan and there were 285 confirmed sightings overall. In 1976, one of the scientists who worked on the balloon bomb program, Sayko Adachi, visited the site and laid a wreath there, to make amends for his hand in the project. For the 50th anniversary, a large gathering took place to commemorate the incident and several cherry trees were planted there. The site was placed on the National Register of Historic Places in 2003, and the nearby tree, "the Shrapnel Tree," was designated as an Oregon Heritage Tree in 2005.
Sources
Mitchell Monument Historic Site. United States Department of Agriculture Forest Service. n d. Accessed October 18, 2018. https://www.fs.usda.gov/recarea/fremont-winema/recarea/?recid=59797.
Additional Information