Alcazar Hotel
Introduction
The building is the second of the original hotel, which was a center of social culture during the booming business days of the Delta. Built in the Colonial and Classical Revival styles during the years of 1914 and 1915, the Alcazar Hotel was designed by Charles 0. Pfeil, who was a popular Memphis-based architect. Today, the historic building is on an endangered building list, which compelled local residents to form a community to try to save the building. The hotel was added to the National Register of Historic Places in 1994.
Images
Postcard depicting the hotel as it appeared in the early 20th century.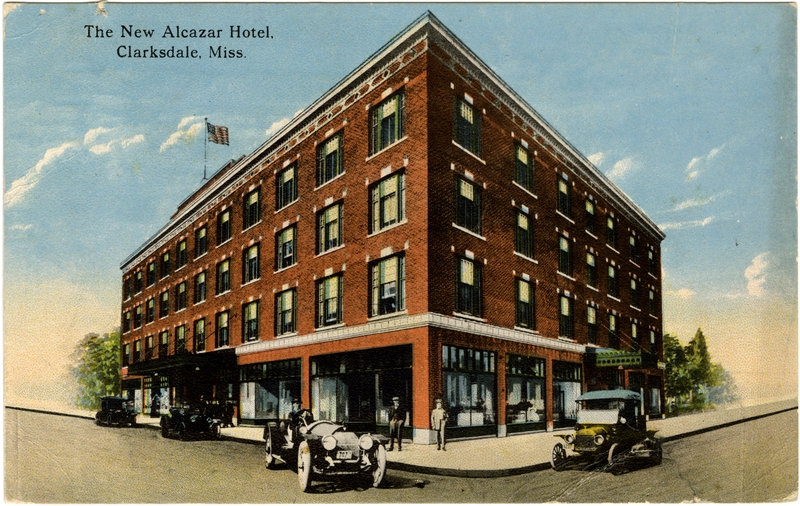 Backstory and Context
The original Alcazar was a Romanesque Revival and Moorish style building that was constructed in the mid-1890s. The hotel's name is Moorish and means fort or palace and was a popular name for hotels during that time in history. The hotel was leased by
J.W. King and J.A. Anderson, who owned a 17,000-acre plantation just outside of Clarksdale.

Advertised as the "most modern hotel in Mississippi", a new hotel building was built in 1914 and 1915. The designer of the New Alcazar Hotel was
Charles 0. Pfeil, who is responsible for much of Memphis's architectural appearance as well. He built Alcazar in the Colonial and Classical Revival styles, with four stories and a glass dome on the second floor "which allowed natural light to filter through to the lobby on the first floor, where a restaurant and several other businesses were housed, including a radio station. WROX operated from the hotel for nearly forty years, featuring live performances from the likes of B.B King, Muddy Waters, Pinetop Perkins, Ike Turner and from an 'obscure Mississippi country boy' who showed up one night named Elvis Presley" (NPS).
In 1947, the original hotel building was destroyed in a fire, which was set by a disgruntle employ of King and Anderson's. There were plans to rebuild, but due to the economic decline that followed World War II those plans were abandoned.
According to the National Register of Historic Places nomination form "[T]he hotel was remodeled in ca. 1948 with a new restaurant space on the first floor, the enclosure of the mezzanine level of the lobby, and numerous other improvements intended to return the building to vitality. The hotel passed into use as an apartment-resident hotel in the years that followed. Today, only commercial tenants remain in the building."
Sources
Hopkins, John L. "New Alcazar Hotel." National Park Service - National Register of Historic Places Nomination Form. June 24, 1994. http://pdfhost.focus.nps.gov/docs/NRHP/Text/94000646.pdf.

Woodrick, Jim. "Charles O. Pfeil and the Alcazar Hotel." Accessed June 30, 2015. http://andspeakingofwhich.blogspot.com/2013/04/charles-o-pfeil-and-alcazar-hotel.html.

Photo: Mississippi Department of Archives and History http://www.mdah.state.ms.us/arrec/digital_archives/series/cooper/detail/19882