Captain Ralph Stewart Grave Site
Introduction
This is the final resting place of Captain Ralph Stewart Sr. Stewart was a soldier in the American Revolution and became the second permanent settler in Wyoming County. In addition to his service on behalf of the patriot cause, he was known as a frontier warrior for his role in several conflicts with Native Americans.
Images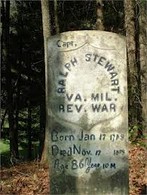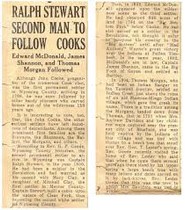 Backstory and Context
Second settler Ralph (Rafe) Stewart, son of James (1720-1757) and Anne O'Lafferty Stewart, was born December 17, 1749, at Cow Pasture, Augusta County, Virginia.
Ralph (Rafe) Stewart was born at Cow Pasture, Augusta County, Virginia, on December 17, 1749 to James and Anne O'Lafferty Stewart. James Stewart was captured by Indians in 1757 and burned at the stake causing Ralph Stewart to develop a hatred towards Indians that he would hold all of his life.
In 1773 Stewart was commissioned as a Captain of Indian Rangers by Lord Dunmore, who at the time was the Royal Governor of Virginia. Virginia Governor Patrick Henry renewed Stewart's commission in 1778.
Captain Stewart was involved in the Battle of Point Pleasant in 1774. At the battle, the Shawnee Indian forces who were led by Chief Cornstalk were defeated. He was also involved in engagements at Guilford Courthouse, Charlottesville, Yorktown and many more. When the English army led by General Lord Cornwallis surrendered at Yorktown, Stewart was part of the troop assigned to guard the defeated General.
Stewart married twice. His first wife, Mary Elliot, he married in Augusta County, Virginia. The couple moved to Kentucky were Mary Elliot died in around 1787. He later married Mary Clay. Stewart and Mary Clay lived in Kentucky for nearly 12 years before moving to Wyoming County in 1800. Between his two marriages, Stewart fathered twenty children.
Captain Stewart died on November 18, 1835. He was buried at a small cemetery on a wooded hillside in Crany, West Virginia. Both his birth and death date were hand-chiseled at the bottom of the stone. The military marker in his honor reads: Ralph Stewart, VA. MIL., REV. WAR.
Sources
"Many Citizens Kin to Ralph Stewart." Wyoming County Report. Web. 30 June 2015. .
Additional Information