Kahal Kadosh Beth Elohim Synagogue
Introduction
Founded in 1740, the Kahal Kadosh Beth Elohim synagogue is significant for its excellently preserved Greek Revival architecture and the fact that is where Reform Judaism first appeared in America. The building itself dates back to 1840 and is the second oldest synagogue building in use in the U.S. The sanctuary and on-site museum are open to the public for scheduled tours, which can be arranged through the synagogue office. The tour provides insight into the history of Charleston's Jewish population and the KKBE congregation. The museum houses artifacts specific to the synagogue, the Jewish population, and historical Jews of Charleston.
Images
Kahal Kadosh Beth Elohim Synagogue Exterior
Kahal Kadosh Beth Elohim Synagogue Exterior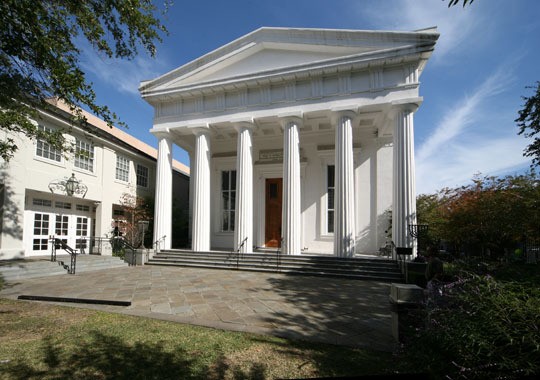 Kahal Kadosh Beth Elohim Synagogue Interior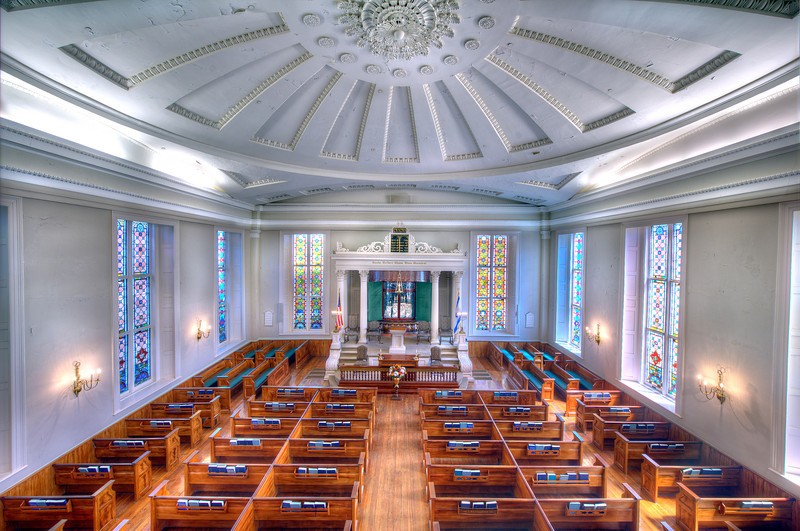 Kahal Kadosh Beth Elohim Synagogue Interior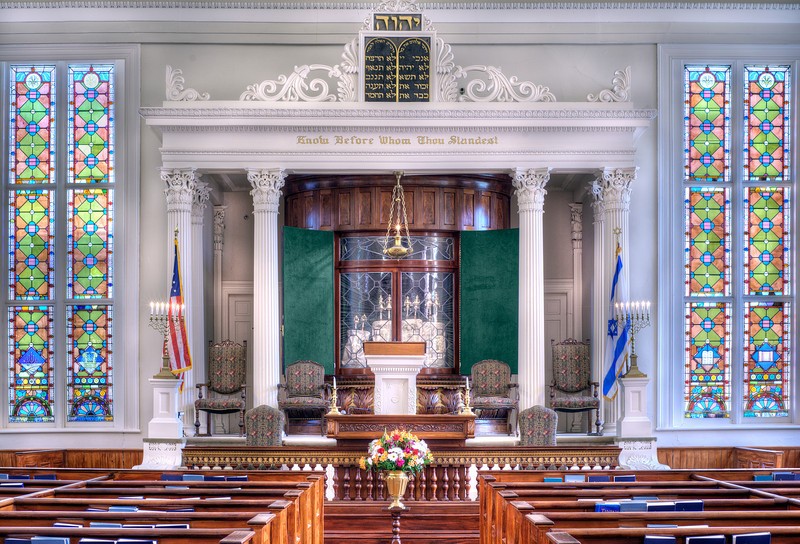 Backstory and Context
Charleston was founded in 1670, and the first mention of a Jew within the English settlement is dated to 1695. The civil and religious liberty of the South provided a significant opportunity for internationally persecuted Jews, and the population of Jews in the Carolinas began to grow. By 1749 a congregation had formed, and the Kahal Kadosh Beth Elohim group was developed. Within several decades they would expand to encompass the Coming Street Cemetery, the oldest surviving Jewish burial ground in the South.
The fourth oldest Jewish congregation in the US, KKBE first practiced in private quarters until they built the initial synagogue, adjacent to the present day location. In 1792 the group began construction on what would become the largest and most impressive synagogue in the country at that time. The structure was large and designed in the Georgian style. It lasted for only 40 some years before it was destroyed by the Fire of 1838. In 1840 it was replaced by the large, columnned Greek-Revival style building present today. However, original pieces of the first synagogue remain, including a large marble tablet over the entrance doors. The tablet is inscribed with the Sh'ma in Hebrew and English translation.
Today the synagogue is open to the public. It offers tours of the Sanctuary, along with education and history of the site and the Jews of Charleston. There is also an onsite museum with authentic artifacts and exhibits for visitors to view. Included are artifacts belonging to historical members, photographs, paintings, books, letters, and articles, along with early prayer books.
Sources
"About." Kahal Kadosh Beth Elohim Synagogue. Accessed http://www.kkbe.org/index.php?page=about.

"Kahal Kadosh Beth Elohim." National Park Service - National Historic Landmarks Program. Accessed June 28, 2015. https://web.archive.org/web/20110606135106/http://tps.cr.nps.gov/nhl/detail.cfm?ResourceId=1789&Reso...

Kappy McNulty & Robert P. Stockton. "Kahal Kadosh Beth Elohim." National Park Service - National Register of Historic Places Nomination Form. April 4, 1978. https://npgallery.nps.gov/GetAsset/6cb18fda-cc8a-457a-8cda-9840e12f9806.
Additional Information