Logan County Courthouse
Introduction
The Logan County Courthouse where it now stands was originally built in 1912, after the original courthouse in Stollings was beyond repair and eventually caught fire in 1911. The Logan County Courthouse has went through repairs, and the design of the courthouse was completely changed after the project was complete in 1964. The court house is still open, and currently there are two Circuit Court Judges serving the Seventh Judicial Court. At the time of this publication, the Circuit Court Judges are the Honorable Eric H. O'Briant and the Honorable Rodger L. Perry. The Logan County Courthouse is also home to many other offices, such as the Magistrates Office, Family Court, Probation, and the Logan County Sheriff's Department.
Images
Logan County Courthouse circa 1960, President Kennedy giving a speech. retrieved from http://loganwv.us/logan-west-virginia-photos/?nggpage=2 June 25, 2015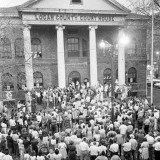 Logan County Courthouse today, retrieved from https://familysearch.org/learn/wiki/en/Logan_County,_West_Virginia June 25, 2015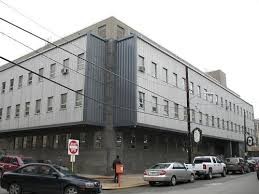 Newspaper clipping from The Logan Banner, for a guilty verdict on on Clarence Stephenson for the murder of Mamie Thurman. (October 14, 1932). Accessed from Logan County Public Library microfilm collection on June 23, 2015.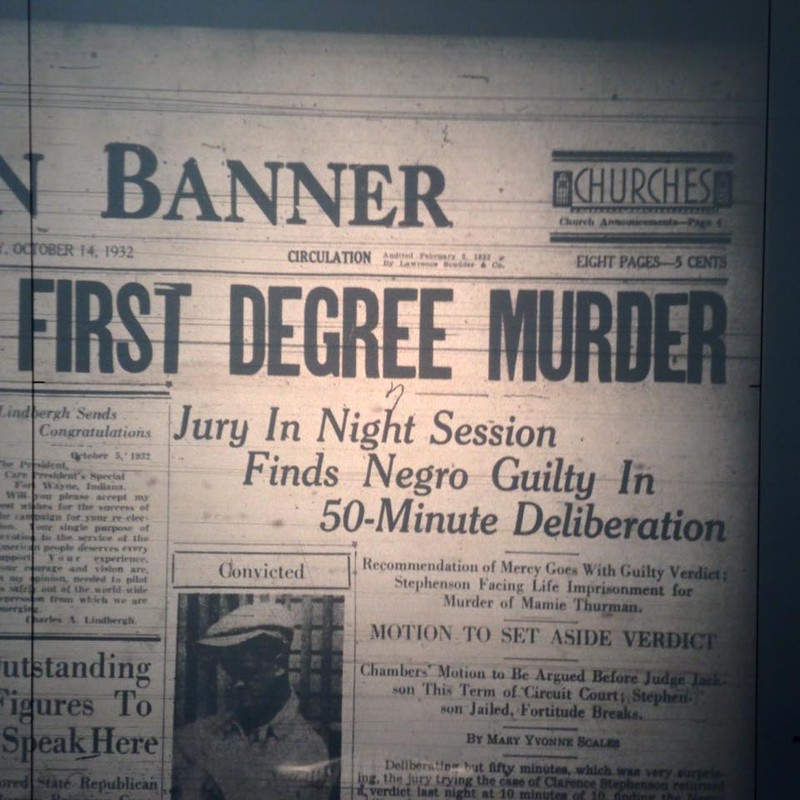 Newspaper clipping from The Logan Banner offering a $1000 reward for information leading to the conviction of whoever is responsible for the murder of Mamie Thurman. (Circa 1932) Accessed from Dwight Williamson Facebook account on June 24,2015.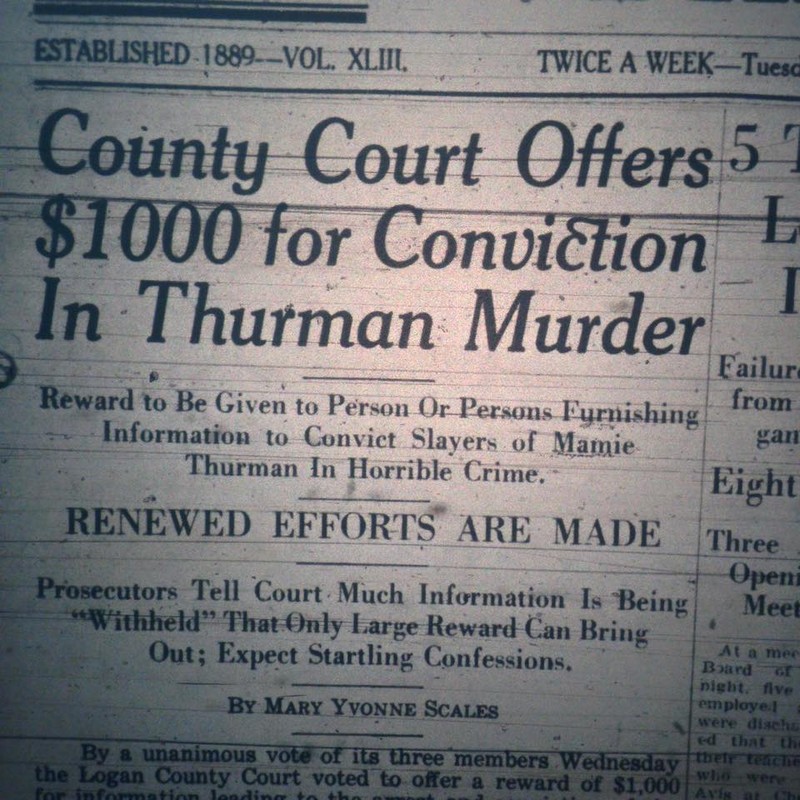 Backstory and Context
The Logan County Courthouse has been home to many famous cases such as the legendary Mamie Thurman trial in 1932, where Clarence Stephenson was charged with her murder even though many individuals in Logan County still do not believe that Clarence Stephenson was the actual murderer to this day.
The Logan County Courthouse was also in more recent times the place where the Megan Williams case that caught national attention was held in 2007. Megan Williams would later recant her claims of rape, torture, and kidnap in the racist attack; however the conviction was based on physical evidence that was found in the case. According to West Virginia Blogpost News, the Sheriff during this time W.E. Hunter stated that "in his 30 years of law enforcement, he'd never seen anything like this. It's something that would have come out of a horror movie." Others said, "The depravities and atrocities done to this young woman is nothing short of sick, perverted and sadistic." (WV News Blog)
Sources
"West Virginia Judiciary." Logan County Court Information -. Accessed June 24, 2015. http://www.courtswv.gov/lower-courts/counties/logan.html. "West Virginia News." : Rape Torture Victim Megan Williams Says It Was Never A Hate Crime. Accessed June 24, 2015. http://westVirginianews.blogspot.com/2009/07/rape-torture-victim-megan-williams-says.html. Urbina, Ian. "Woman Recants 2007 Tale of Kidnap and Assault." The New York Times. October 21, 2009. Accessed June 26, 2015. http://www.nytimes.com/2009/10/22/us/22abuse.html. Logan County Courthouse circa 1960, President Kennedy giving a speech. retrieved from http://loganwv.us/logan-west-Virginia-photos/?nggpage=2 June 25, 2015 Logan County Courthouse today, retrieved from https://familysearch.org/learn/wiki/en/Logan_County,_West_Virginia June 25, 2015 Newspaper clipping from The Logan Banner, for a guilty verdict on on Clarence Stephenson for the murder of Mamie Thurman. (October 14, 1932). Accessed from Logan County Public Library microfilm collection on June 23, 2015