Coming Street Cemetery
Introduction
The Coming Street Cemetery is the oldest surviving Jewish cemetery in the Southern United States. Belonging to the historical Kahal Kadosh Beth Elohim Synagogue, the cemetery is a pre-Revolutionary War burial site, purchased by the Synagogue from a private family in 1764. The site is host to 800 buried individuals, in approximately 500 graves sites.
Images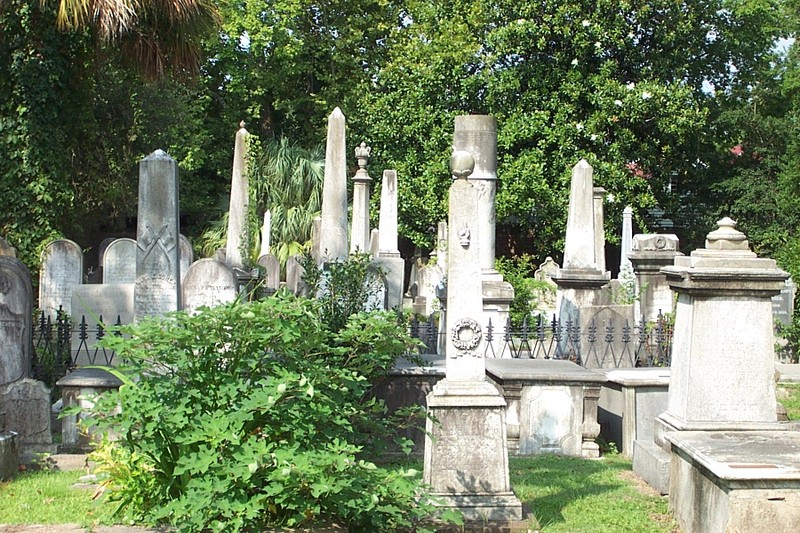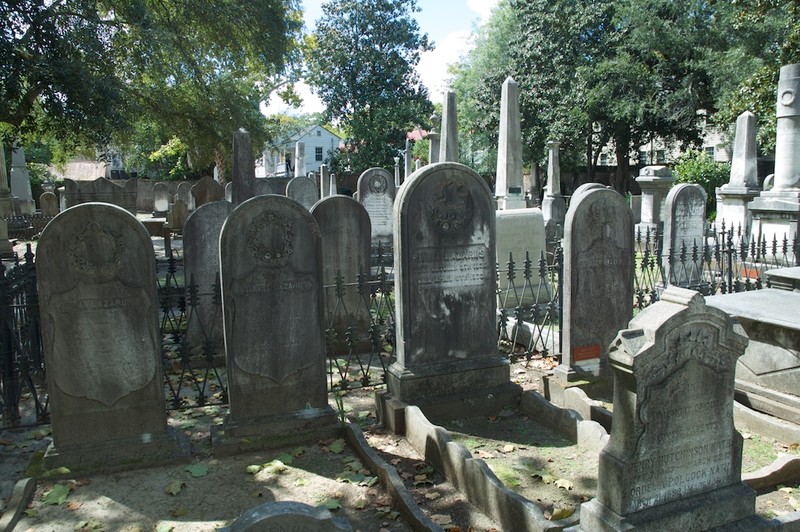 Backstory and Context
The Coming Street cemetery was first purchased in 1754 by the DaCosta family. Jewish immigrants from Spain, the family intended to use the plot as a private family burial ground. However, in 1764 they made the decision to sell the plot to the Synagogue for 70 British sterling.
Coming Street Cemetery is the oldest and largest colonial Jewish cemetery in the south. It covers approximately one acre of ground. A stuccoed brick wall surrounds the cemetery, parts of this wall are original. The brick wall is an important feature of the cemetery and is a major factor in preserving the cemetery over the past two centuries. An estimated 800 people reburied in 500 graves, including many notable Jewish members of early Charleston society. In antebellum times the Charleston Jewish community was the wealthiest largest Jewish population in the country.
Buried in the cemetery include many notable individuals, ten soldiers who fought in the American Revolution, six soldiers the War of 1812, two of the soldiers who fought Seminole Wars, and twenty-one of the Civil War veterans. Other significant figures included eighteen of the past congregation's presidents, Dr. Columbus DaVega, who built a floating hospital ship for the Civil War, and Michael Lazarus, who invested in steam navigation, and Joshua Lazarus, who introduced Charleston to gas lighting. Bronze plaques were placed in 1964 on the headstones to identify important people who are buried at the Coming Street Cemetery.

There are three sections of the cemetery. The first section being original congregational cemetery and dates from 1754 to 1764; it was the DaCosta family plot. The second section of the cemetery is that was developed by members of Beth Elohim. Who seceded in 1841 over the installation of an organ in the synagogue and had formed Orthodox Congregation Shearit Israel. The last section is the Lopez family plot, that was established in 1843 when Shearit Israel refused to bury David Lopez's first wife who had not been converted to Judaism.
The cemetery is locked, but available for tours through the Synagogue.
Sources
Serrins, Randi. Deep Colonial roots for Coming Street Cemetery. Charleston Mercury. Accessed April 26, 2017. http://www.charlestonmercury.com/index.php/en/history/66-deep-colonial-roots-for-coming-street-cemet....
Coming street Cemetery. Kahal Kadosh Beth Elohim. Accessed April 26, 2017. http://www.kkbe.org/index.php?page=our-cemeteries.
Coming Street Cemetery. Charleston historic religious & community buildings. Accessed April 26, 2017. https://www.nps.gov/nr/travel/charleston/cem.htm.


Additional Information