Historic Aircraft Tours over the New River Gorge
Introduction
Wild Blue Adventure Company offers flights over the New River Gorge in a World War II Stearman biplane and a 1941 Piper Cub. The pilot and owner has 20 years of flight experience and a passion for history and aviation. In addition to a ride in a historic airplane, guests who ride in the Stearman have the option of aerobatics including hammerheads, barrel rolls, loops, and S-turns.
Images
The view of the bridge over the New River Gorge from the Stearman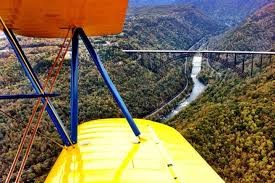 Backstory and Context
The Stearman Biplane was manufactured by The Boeing Airplane Company located in Wichita Kansas. The company was also famous for producing other World War II airplanes as well as the B-17 bomber. In September 1940, the Stearman was built for the U.S. Army Air Corp. The construction of the airplane cost $10,412. Designed for and utilized at airfields throughout the nation, the Stearman Biplane was used to train young pilots who were being sent to battle in World War II.
The Stearman Biplane was used by two separate contract piloting schools from October 1940 to November 1943. The Cal-Aero Academy in Ontario, California and the Grand Central Flying School.The airplane was moved in November 1943 to the Hawthorne School of Aeronautics located in Orangeburg, South Carolina. Here the aircraft was used to train both American and French pilots.
Palm Field in Bennettsville, South Carolina was the next location to house the Stearman. Once it arrived in Bennettsville, it was stricken from the U.S. Army's records. It was then turned over to the Reconstruction Finance Corporation which was an agency designated by the U.S. Government Surplus Property Board to dispose of surplus military airplanes and aviation materials. Then, in 1949, a private party purchased the airplane. It was converted into a crop duster where it served in this capacity throughout the southern U.S. until late into the 1980s. It was then retired and placed into storage.
The Stearman was purchased and completely disassembled in the mid-1990s. It was restored to its original condition, exactly how it had been during its use as an Army Air Corp primary trainer in 1940.
The Stearman Biplane is now flying in the skies above the New River Gorge and Summersville Lake in southern West Virginia.
Sources
"History of the Stearman Biplane." Wild Blue Adventure Company. Web. 26 June 2015. .
Additional Information