Emerald Mound
Introduction
Built by Native Americans more than three and a half centuries ago and stretching over eight acres, Emerald Mound is the second largest in the nation. It is about 770 by 435 feet at the base and is 35 feet high. It has been designated a National Historic Landmark and is maintained by the park service.
Images
"Emerald Mound". Licensed under Public Domain via Wikimedia Commons - https://commons.wikimedia.org/wiki/File:Emerald_Mound.jpg#/media/File:Emerald_Mound.jpg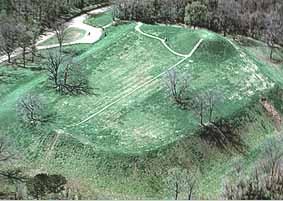 Backstory and Context
The towering mound is estimated to have been built between 1250 and 1600 A.D. by prehistoric Native Americans, who were the ancestors of the Natchez Indians. The mound was built by hand by carrying and dumping dirt along the sides of a hill and then molding it into an artificial plateau. There were also numerous smaller mounds that surrounded the large mound, forming somewhat of a complex.

Archeologists have determined that the purposes of the mound and its smaller mounds were twofold: they served as a burial site and ceremonial center. The Natchez Indians eventually left the mounds when they moved to the Grand Village, about 12 miles southwest, in the late 1600s, and the smaller mounds were destroyed by plowing and erosion.

Emerald Mound was named after the Emerald Plantation that surrounded it in the 19th century. The land that the mound is located on was donated to the National Park Service in 1950 and now offers historical signs that tell the mound's story as well stairs that lead to beautiful views.



Sources
http://www.exploresouthernhistory.com/natchezemerald.html http://www.nps.gov/nr/travel/mounds/eme.htm
Additional Information