The Grange
Introduction
The Grange is a historic home initially built in 1800 by Edward Stone, an infamous slave trader. This home had passed through the hands of 11 owners before it reached its current owners, Phil and Lillie Crowley . Initially, it was named Oakland, and then Brentwood before being called The Grange. The house is 4,600 square feet, surrounded by thirty-three acres of land, and did not receive indoor plumbing until 1906. The Crowleys have, in the past, conducted tours of the home to benefit the preservation group Historic Paris-Bourbon County (Eblen).
Images
A view of the house from the front.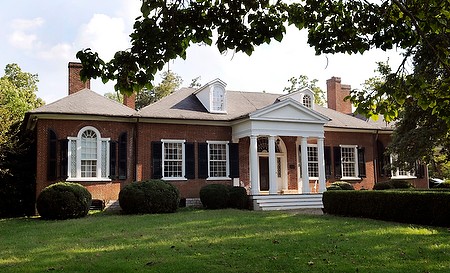 The front hall; the dungeon is located directly underneath this room.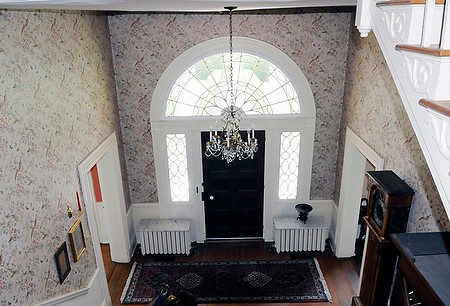 Backstory and Context
Construction on The Grange began in 1800 by Edward Stone on land that his father received for Revolutionary War service. It is considered to be one of Kentucky's finest "Federal-style homes". One of Edward Stone's professions was building, he used this house to showcase his abilities, but he is better known for his business in slave trading. He is one of the most infamous slave traders and may even be the inspiration for Mr. Haley, the slave trader in Harriet Beecher Stowe's novel, Uncle Toms Cabin. He marched chained lines of men and women forty miles to Maysville, where he sold them to plantation owners. Slaves were also kept chained to the walls of a dungeon beneath the front hall. Others usually sold Stone their unruly or disrespectful slaves (Curtis 110).
Around 1826 Stone had decided to end his career in slave trading and become a planter. He loaded more than seventy-seven slaves onto a ship, although he had been warned that a rebellion may occur. Around ninety miles before reaching Louisville the slaves overrun Stone and the other white men on board; they killed them and then threw them into the River. This rebellion did not free them, they were later captured, but their fate is unknown. They were likely either executed or severely punished (Curtis 110)
After Stones death, the house was sold to Hugh Brent, who left doodles on the walls for the Crowleys to later find under layers of paint. The house is no longer open for public tours, but you can drive by to get a quick peek. Along with the home, there is also a one-story brick cabin that was used as slave quarters. The dungeon is also still there, although the bars were taken off the windows and chains removed from the walls (Brent).
Sources
Curtis, Nancy C. Black Heritage Sites: An African American Odyssey and Finder's Guide. 1996. Web. Eblen, Tom. Bloginky. 27 September 2011. Web. 2015.
Additional Information